Sales fizz for Irn Bru maker AG Barr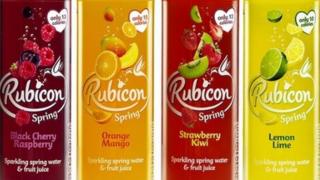 New product launches have put some fizz into sales figures for Irn Bru maker AG Barr.
In a trading update, the Cumbernauld-based firm said it expected revenues to climb year-on-year by 8%, to £136m, in the six months to 29 July.
It cited the "continued success" of Irn Bru Xtra and Rubicon Spring, which were launched last year.
The firm said it was confident of delivering a full-year performance in line with its expectations.
Barr also reported "good progress" with its sugar reduction programme, which will see more than 90% of its portfolio contain less than 5g of total sugar per 100ml.
The company said it would be "phasing in" the reformulated products over the next six months.
The move comes ahead of the planned introduction of a levy on sugary drinks in April 2018.
Chief executive Roger White said: "We have delivered a good first half with strong sales growth supported by our successful innovation programme, particularly Irn Bru Xtra, which has now been launched in England and Wales, and Rubicon Spring, which is gaining distribution across multiple channels.
"We are well positioned to deliver against our expectations across the balance of the year."