TC BioPharm secures cancer therapy funding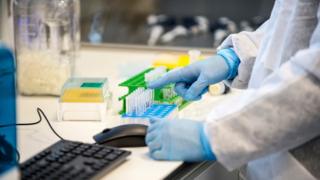 A Scottish biotechnology firm has been awarded awarded 4m euros (£3.6m) by a European Union fund to develop next-generation cancer therapies for multiple tumour types.
TC BioPharm's "autologous"' cell therapy aims to treat patients with tumours such as malignant melanoma, kidney and lung cancer.
It is designed to use a patient's own cells to treat cancer.
TCB hopes the therapy will be used in the first cancer patients in 2019.
The project was one of only 57 selected out of more than 1,500 applications for the EU's Horizon 2020 (H2020) programme.
TCB said the award was the largest EU grant of its kind for the development of a healthcare therapeutic product.
It added that the cash would allow it to develop a next-generation "allogeneic" approach - meaning treatments can be manufactured using existing cells from donors, stored in a bio-bank.
The company is already working with clinical centres of excellence to treat cancer patients in various cities including Glasgow, Edinburgh, Oxford, Southampton, London and Cardiff.
TCB has raised more than 25 million euros (£22.4m) in funding since starting operations in February 2014.
It has premises in Glasgow, Edinburgh and London, employing more than 50 staff.
Chief operating officer Angela Scott said: "We are thrilled that H2020 funding has been awarded, allowing us to treat large numbers of cancer patients across the EU and in North America."