Pret A Manger owner Bridgepoint buys Miller Homes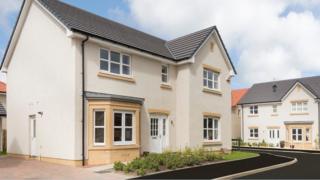 Scottish housebuilder Miller Homes has been bought by the private equity group which owns sandwich chain Pret A Manger in a deal worth £655m.
Bridgepoint confirmed the acquisition of one of the UK's largest housebuilders on Wednesday.
Established in 1934, Miller Homes focuses on regional markets such as the north of England, Midlands and Scotland.
In 2016, the Edinburgh-based company completed a total of 2,380 homes.
Last year it reported a 13% increase in revenue to £565m and a 31% increase in operating profit to £103m.
'Outstanding year'
Miller Homes chief executive Chris Endsor said: "2016 was an outstanding year for Miller Homes delivering operating profit in excess of £100m for the first time and outperforming on all key financial metrics for the fifth consecutive year.
"We fully expect 2017 to continue that upward trend."
Bridgepoint partner Jamie Wyatt said: "The UK regional markets in which Miller operates are in good health with a positive sales environment and an attractive land buying market.
"Miller's strategic position within those markets combined with its historic robust financial performance position it well to address future growth in the UK new build housing market where demand currently outstrips supply."
In 2014, Miller Homes shelved plans to float on the London Stock Exchange, blaming market volatility.