GMB concern over investment at McVitie's Glasgow factory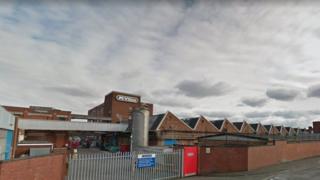 A union is seeking reassurance from managers at biscuit maker McVitie's over its long-term commitment to production at its factory in Glasgow.
GMB Scotland said the company had been silent over the future of investment at the Tollcross site.
More than 500 people work at the plant, which produces Hobnobs and Rich Tea biscuits, among other products.
McVitie's owner Pladis said it had invested more than £5m at the site in the last few years.
It added employees and union representatives "will be the first to know" if there were any changes to its operations.
In a letter to the company's site manager, GMB Scotland called on McVitie's to "address concerns that funding is not being brought forward for the modernisation of production lines".
GMB senior organiser Drew Duffy said: "The fact that we cannot get clarity from the general site manager over the business needs and investment plan for the future of Tollcross is deeply concerning our members.
"Generations of families have worked here and the workforce is highly concentrated in the local community and the greater Glasgow area, a crucial pillar of decent employment in an area of high unemployment and social deprivation.
"So, from the perspective of jobs, pay and prosperity, and against the backdrop of Brexit, rising cost of living and chronic manufacturing decline, the east end (of Glasgow) desperately needs a thriving manufacturing presence at McVitie's."
'Ongoing engagement'
A spokeswoman for Pladis said: "The site manager at Tollcross received a letter from GMB Scotland only yesterday and the company will be responding directly as we value ongoing engagement with employees and union representatives.
"We had a regular meeting with employees and GMB representatives at Tollcross two months ago at which a number of issues were discussed openly.
"We discussed with employees then that like all companies operating in an extremely competitive and uncertain economic climate, we review our operations on an ongoing basis - and that applies across our all our businesses and sites - in order to remain competitive."
She added: "In recent years, we have invested over £5m in our Tollcross site, notably on production lines and operational improvements.
"We fully recognise the heritage of Tollcross as a manufacturing site and should there be any changes to our operations at the site, employees and their union representatives will be the first to know."