Scotland's employment rate hits record high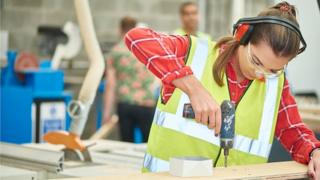 Scotland's employment rate hit a record high in the three months to June, according to official figures.
The number of people in work in Scotland reached 2,650,000, or 75.2%, a rise of 1.1 percentage points over the quarter.
Meanwhile, Scottish unemployment fell by 12,000 to stand at 107,000.
The jobless rate fell by 0.5% from the previous quarter to 3.9% and now stands below the UK figure of 4.4%.
The fall of 12,000 was compared with the unemployment figures for January to March.
When the latest figures are compared with the March to May figure, which was published last month, unemployment has risen by 3,000.
'Continued resilience'
Economy Secretary Keith Brown said: "These latest figures show continued resilience in our labour market with 30,000 more people in work compared with this time last year and the unemployment rate falling by 1.2 percentage points over the year.
"The employment rate has risen to 75.2%, its highest on record, with more people in employment than ever before, while the unemployment rate of 3.9% is close to record lows.
"This is a further vote of confidence in our economy, coming after GDP figures showing Scotland's growth rate was four times faster that of the UK over the last quarter, and recent reports of accelerating growth across the private sector."
Scottish Secretary David Mundell said: "It is good news that Scotland's employment has reached a record high.
"Unemployment is at a near-historic low, at 3.9%, which is a trend I hope to see continue.
"The UK government will continue to work to strengthen Scotland's economy, and I encourage the Scottish government to continue to use their economic levers to increase Scotland's prosperity."
Stuart McIntyre, from the Fraser of Allander economic research institute, described the fall in unemployment and record employment rate as "good news".
He said: "But, we note that almost all of the recent rise in employment is among the self-employed, which may have implications for tax revenues and the number of hours and type of work undertaken.
"The data to June 2017 also shows that Scotland's youth unemployment rate (for 16-24-year-olds) is at its lowest ever recorded rate.
"This sustained low rate of youth unemployment is welcome news.
"One slight caveat to this is that we have also seen a rise in the economic inactivity rate among this age group over the past year, so not all those leaving unemployment are doing so to begin work."
'Challenges'
Scottish Chambers of Commerce chief executive Liz Cameron said while the latest figures were encouraging, there were still some "challenges".
She said: "Strong labour market figures are still not translating into increased productivity or the sort of wage growth that we would normally be seeing with fewer people out of work.
"This persistent lack of increased productivity and wage growth will add further pressure on consumer demand, business margins and future business investment."
According to the latest ONS figures, wage increases continued to fall further behind inflation.
Excluding bonuses, earnings rose by 2% year-on-year. However, inflation had hit an almost four-year high of 2.9% in May.
When the impact of inflation is factored in, real weekly wages fell by 0.5% compared with a year earlier.