Wood Group reports slump in half-year profits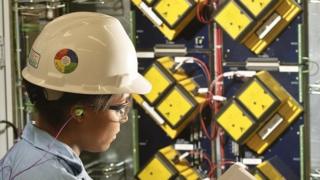 Oil services provider Wood Group has reported a slump in half-year profits, with a challenging North Sea market being cited as a factor.
The company - which aims to acquire Amec Foster Wheeler - reported a 77% fall in pre-tax profit to $13.5m (£10.5m) in the six months to 30 June.
Wood Group also had $47.6m (£37.1m) of exceptional costs, more than half of which were linked to its proposed takeover of Amec.
Revenue fell 10% to $1.9bn (£1.5bn).
Chief executive Robin Watson said: "First half performance was down on 2016 reflecting the different market conditions across our business.
"The North Sea market is particularly challenging."