STV profit and revenue fall blamed on advertising downturn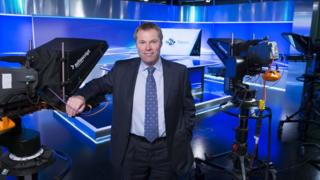 Both profits and revenue for Scottish broadcaster STV fell in the first half of the year.
Compared with the same period in 2016, revenue was 3% lower at £54.6m and pre tax profits 26% lower at £7.5m.
However, there was growth in digital activities, with revenue up 14%, at £4m.
Outgoing chief executive, Rob Woodward, who is due to be replaced by Simon Pitts, blamed the drop in income on a downturn in the advertising sector.
During the period, the broadcaster launched its new STV2 channel and secured commissions for a BBC1 drama and daytime series for ITV.
Mr Woodward told the BBC's Good Morning Scotland programme: "This was no surprise to us. We're not immune to downturns in the overall market, but the really pleasing thing is that every other revenue line that we're responsible for driving actually delivered growth over the first half of this year, in particular the continued success of our digital services."
He said he was confident the group would emerge from the current downward pressure on the economy.
He added: "We reckon that by the end of 2018, 30% of all our profit is going to be generated from our digital activities plus our production business."
He added that he was "delighted" with the performance of STV2 and said: "We launched the new channel, covering about 85% of Scotland in April. About half of Scots have now had an opportunity to watch the channel."
He added: "We're back in the drama business, which is great news for us and great news for the Scottish creative industry.
"We've announced a four-part drama called The Victim, which is going to be set in Edinburgh and been commissioned by the BBC network and will transmit on BBC1 next year across the UK and we've got a strong pipeline and that is why we remain on track to hit our 2018 financial targets."