Airlines compete on Scottish Highlands and islands routes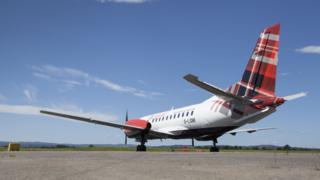 Loganair has started operations as an independent airline for the first time in 25 years.
The move has brought competition to a number of routes in the Highlands and islands.
Loganair has been operating as a franchise partner of Flybe, which will now compete with it through an alliance with Humberside-based Eastern Airways.
The routes affected include Glasgow to Stornoway and flights to Shetland from Edinburgh, Aberdeen and Glasgow.
The airlines will also be flying from Aberdeen to Orkney.
The inaugural flight by Loganair in its new colours flew from Glasgow to Islay.
The Spirit of Harris, a Saab 340, was flown by Captain Rebecca Simpson, a veteran of 14 years.
Loganair managing director Jonathan Hinkles said: "Today is a major milestone in the 54-year history of Loganair.
"Although we have flown as a franchise carrier for larger airlines over the last 25 years, there is still a huge level of recognition and affinity for the Loganair name throughout Scotland and beyond."
Speaking later on the BBC's Good Morning Scotland programme, he added: "What we're already seeing is a tremendous level of support from within the Highlands and islands for Loganair as Scotland's airline and we're really delighted and very, very grateful for that.
"What we're focused on now is absolutely what we're doing on the ramp at Glasgow at half past six this morning which is making sure that we deliver for our customers and do everything we can to offer the best possible service at the best possible price.
"That ultimately will see our success there long into the future."
Eastern will operate a number of routes Loganair has flown under the Flybe livery for the past eight years.
Flybe said a new five-year deal would see Eastern run its scheduled network under the Flybe brand.
It said the new alliance would "significantly improve" connectivity for Scotland.
Chief executive Christine Ourmieres-Widener said: "We are a regional airline and we are also a local airline connecting communities.
"We decided to do that (compete with Loganair) because we think that there is room for two operators.
"We did it with a fantastic new partner, Eastern Airways, and we think that we have the right aircraft and the right infrastructure to be successful."