New distillery opens at Lindores Abbey in Fife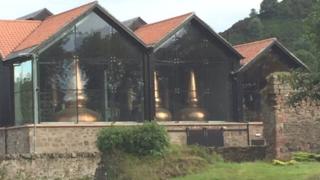 A new distillery has opened at one of Scotch whisky's most historic locations.
Lindores Abbey Distillery in Fife will start work on its first spirit later this month - more than 500 years after its first dram was recorded.
Lindores is aiming to produce 150,000 litres of spirit a year, to be stored in Woodford Reserve and Old Forester bourbon barrels from Kentucky.
The finished whisky product should be available by 2023.
Whisky production was first recorded at the Newburgh site in 1494, when Friar John Cor of Lindores Abbey paid duty on eight "bolls" of malt to make alcohol, for King James IV. The old Scottish measure amounts to 350 litres.
'Spiritual home'
The project is the brainchild of Drew McKenzie-Smith, whose family have owned the 12th Century abbey and neighbouring farm for more than 100 years.
Mr McKenzie Smith, custodian of Lindores Abbey, said: "Opening Lindores Abbey Distillery, at the spiritual home of Scotch whisky, is a special day for my family, colleagues, and the whisky community around the world.
"Twenty years ago, when I first read that the earliest written reference to Scotch whisky distillation in Scotland cited Friar John Cor of Lindores' commission by King James IV to turn eight bolls of malt into aqua vitae, it changed my life and gave me the purpose and ambition to preserve Lindores Abbey for generations to come."
The abbey ruins - where William Wallace rested after the Battle of Black Earnside in 1298 - will be open to the public as part of the new visitor centre experience.