Former cleaners take up boardroom roles at Spotless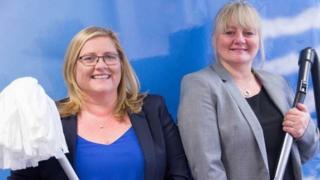 A commercial cleaning specialist has appointed two of its former cleaners as joint managing directors of the company.
Nicola Barbour and Michelle Lamb will take on boardroom roles at East Lothian-based Spotless.
They will share responsibility for more than 1,400 staff across seven offices. Each will each handle a £6m per year portfolio.
The Musselburgh firm said the move was part of its long-term growth strategy.
Ms Lamb, who joined Spotless 22 years ago, will be based in Glasgow and run the firm's offices in Glasgow, Edinburgh, Newcastle and Manchester.
'Real aptitude'
Ms Barbour, who is based in Aberdeen, has been with the company for eight years. She will look after the company's operations in Aberdeen, Sheffield and London, as well as oversee the opening of a new office in the Reading area.
Spotless chief executive Roger Green, said: "Both Michelle and Nicola joined Spotless as cleaners as at the time they needed flexible part-time work to fit round their family commitments.
"They threw themselves into their roles and I quickly recognised that they had a real aptitude for managing people.
"I promoted them to more and more senior roles within the company to encourage them to develop their skills and fulfil their full potential.
"They have worked their way up to the most senior management positions learning the business from the ground up."