Jam maker Mackays set to expand factory in Arbroath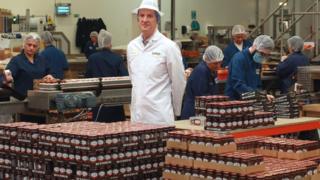 Marmalade and jam producer Mackays has announced a £3.8m expansion at its factory in Angus.
The firm said it planned to introduce new product lines and create a distribution centre and co-packaging facility in Arbroath.
The investment includes the cost of new equipment.
Mackays is investing £3m in the project, with a further £875,000 coming from the Food Processing Marketing and Co-operation grant scheme.
Work is due to begin at the site in January.
Mackays makes a range of marmalades, preserves and curds, using steam-heated copper-bottomed pans made locally in Dundee. It employs 180 people at its Arbroath factory.
The company's products are stocked in more than 80 countries, with exports making up 40% of sales.
Mackays managing director Martin Grant said the company was responding to growing demand for its products.
He added: "In 1995, we were filling just 10,000 jars a year which, compared to today's 25 million, demonstrates the demand for Mackays Dundee Marmalade and jams."