Mactaggart and Mickel posts fifth year of rising profits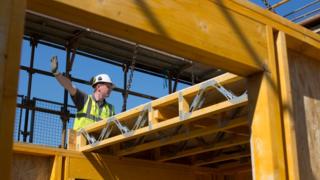 Scottish housebuilder Mactaggart and Mickel has posted a rise in profits for the fifth year in a row, as it sets its sights on expansion in England.
The group reported a 22% increase in pre-tax profit, to £12.7m, in the year to the end of April. Turnover increased by 14% to £74.3m.
The Glasgow-based firm cited a "robust" performance by its homes division.
It sold 167 homes for an average price of £351,000 - up from £290,000 the previous year.
The firm attributed the improvement in part to "careful targeting of high-quality locations".
Two brand new developments were launched this year - Red Lion in Newton Mearns and Millerhill at Shawfair in Midlothian.
The group's long-term goal to expand into the English housebuilding market took a step forward during the year with the purchase of two sites for development in Oxfordshire.
Chief executive Ed Monaghan said: "These results show that we have delivered an excellent financial performance, continued to grow the business and increased profits and turnover.
"This has been achieved against a backdrop of investment in the development of our employees and continually improving and evolving the business.
"Realising our strategy to expand into the English house building market has been a significant milestone for the group this year, and this focus will continue in the years ahead."