Scottish Power loses 120,000 customers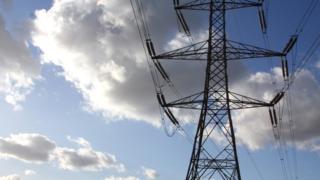 Scottish Power has lost 120,000 customers over the past year, according to its latest set of results.
The energy giant had 5.22 million gas and electricity customers at the end of the third quarter - down from 5.34 million in the same period last year.
Profits also slumped for its generation and supply business, following a drop in demand.
Domestic electricity demand fell year-on-year by 6.8%, while gas demand was down by 6.6%.
Scottish Power, which is owned by Iberdrola of Spain, attributed the falls to milder weather in 2017.
'Less output'
Earnings for the division before interest, tax, depreciation and amortisation (EBITDA) were down year-on-year by more than 75%, at £46.5m.
The company's retail business saw earnings down by £92.9m, while its generation business posted a profits fall of £47.7m as a result of "less output and lower margins on ancillary services".
Earnings were also down slightly for its energy networks division, which the group said was in line with expectations.
However, there was better news for its renewables arm, which saw EBITDA rise by 34.7% year-on-year, to £211.6m.
Scottish Power said total wind power production had increased by 34% so far this year, with a 37% uplift in onshore wind alone during the third quarter, compared with a year ago.
Chief corporate officer Keith Anderson said: "In retail, we have more customers on fairer deals than any other 'big six' suppliers and we are the only bigger company to have increased its market share since 2011.
"We believe that putting our existing customers before new customers is the best way to compete in this marketplace. That is why we work hard to reward our customers' loyalty by getting them onto better deals.
"Our view remains that the proposed price cap will not to help to engage those customers who could still find a better deal.
"It will be bad for consumers, energy companies big and small, as well as investor confidence."