Workers call for action to save BiFab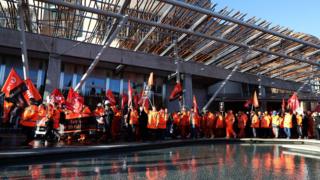 Hundreds of workers from the troubled BiFab engineering firm have marched to Holyrood, calling on the Scottish government to safeguard their future.
BiFab, which employs 1,400 at yards in Fife and Lewis, has warned it is in danger of going into administration.
The company provides equipment to the oil and renewable energy industries.
First Minister Nicola Sturgeon has returned from a climate change summit in Bonn, and has said she is available for talks on the firm's future.
Her deputy, John Swinney, had earlier told Holyrood that Ms Sturgeon was "returning early" from her trip in order to "be available this afternoon to convene face-to-face discussions at St Andrew's House if those are required."
Her official spokesman later claimed the first minister had come back to Scotland "slightly early", before Ms Sturgeon's office eventually admitted that she had actually returned at exactly the time she had always been due to.
Staff at Burntisland Fabrication, or BiFab, have agreed to continue working on their current order even though they might not be paid.
Emergency talks have been taking place at the engineering company over the past week.
Union leaders want ministers to help resolve a row between BiFab and Dutch-owned contractor Seaway Heavy Lifting (SHL).
Deputy First Minister John Swinney, standing in for Ms Sturgeon at Holyrood, told MSPs that ministers had been "immersed" in discussions over the future of BiFab since being alerted to the issue last Thursday.
He said: "Yesterday the first minister spoke from Bonn, where she is attending the climate change talks, to the leadership of [energy supplier] SSE and also SHL.
"The first minister is returning early from her trip in Bonn to be available this afternoon to convene face-to-face discussions at St Andrew's House if those are required."
'Stand up and fight'
BiFab provides large-scale equipment for the offshore oil and gas industry, as well as platforms for offshore wind turbines and tidal generators.
Hundreds of workers and their families joined the march on the Scottish Parliament.
The GMB union's Scottish Secretary, Gary Smith, said letting workers and communities go under was "not an option".
He told BBC Radio's Good Morning Scotland programme: "They are the people employed doing the jobs of the future.
"We need to stand up and fight and defend Scottish manufacturing and today you will see the enormous dignity and the great resolve these workers have got.
"We're going to fight this through and I'm confident we're going to get an outcome."
'Active discussions'
The company has yards in Burntisland, Methill and at Arnish on Lewis and said its workforce comprises of 251 permanent staff and 1,132 agency workers.
The GMB union has 440 members across the three yards.
Bifab has said it is "actively in discussion" over options to allow it to continue trading.
Seaway Heavy Lifting said earlier in the week it had been working for many months to support BiFab "as they address their production problems and cost overruns".