UK 'has largest decommissioning market' in North Sea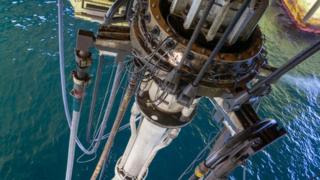 The UK has the largest decommissioning market in the North Sea, according to industry body Oil and Gas UK.
It has forecast that £17bn will be spent on decommissioning 214 fields in UK waters between now and 2025.
That compares with 106 fields in the Dutch sector, 23 fields on the Norwegian Continental Shelf and six fields in Danish waters.
Across the four sectors, more than 200 platforms are forecast for complete or partial removal.
Nearly 2,500 wells are also expected to be plugged and abandoned, while nearly 7,800km (4,800 miles) of pipeline are forecast to be decommissioned.
On the UK Continental Shelf, 46%, or £7.9bn, of total decommissioning spend will be concentrated in the central North Sea.
The largest category of expenditure in UK waters is expected to be well plugging and abandonment. About £8.3bn is predicted to be spent over the nine-year period.
The Decommissioning Insight report was launched at a major decommissioning conference in St Andrews organised by Oil and Gas UK and Decom North Sea.
It is the first time the annual report has included activities off Norway, Denmark and the Netherlands, as well as those on the UK Continental Shelf.
Oil and Gas UK's upstream policy director, Mike Tholen, said: "This additional information will help the supply chain better understand the demand for their service and expertise from now until 2025."