North Sea industry 'more optimistic'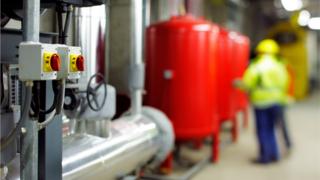 The oil industry in north-east Scotland is seeing an upturn in business sentiment.
There has been a sharp drop in the number of firms expecting a decline in business conditions.
The survey was by the Aberdeen and Grampian Chamber of Commerce
Overall, the balance of opinion, surveyed between April and October, found rising confidence for nearly half: 49%, up from 38% at the last six-monthly survey.
Only a tenth of firms registered falling confidence.
Six out of ten oil and gas businesses told surveyors they thought the bottom of the industry downturn had passed.
Looking ahead to the end of next year, none thought their business would be in decline.
The number of firms operating at or above their optimum level of workload has risen from 12% to 27% in the past year.
Price slump
In 2013, before the slump in the oil price and with investment running strongly in the UK offshore sector, that measure of full capacity reached a peak of 79%.
Almost quarter of firms reported a drop in workforce during this year: 23%, compared with 68% last year.
The share increasing employment was up to 30%, whereas that was only 8% in 2016.
However, business leaders at the Chamber of Commerce expressed surprise that three quarters of companies think they'll still be mainly in the oil and gas sector in 2025.
Many hope to gain work from decommissioning and from renewables. But plans to compete for contracts in British onshore unconventional drilling, such as fracking, have receded. Such activity has been banned in Scotland.
James Bream, of Aberdeen & Grampian Chamber of Commerce, said: "The underlying data suggests that rather than an industry with 'cautious optimism' we actually see a picture of significant diversity with some companies buoyant and performing well while others remain fragile.
"It does look like the worst is likely to be over. However as activity levels and revenue remain lower for many compared to three years ago business models for some may be simply unsustainable.
"We were perhaps surprised that the expectation is that in 2025 respondents on average felt 72% of revenue would still be from core oil and gas activity."
Capital investment
He added: "We may need to be more ambitious around diversification to secure growth to retain the scale of the sector at these percentages, unless we see a large increase in UK capital investment or a step change in internationalisation.
"Both of these feel unlikely at the moment with the sector already performing well on the latter measure."
The recovery from the industry slump has been helped by a rise in the world price of oil above $50, with more stability over the past year.
The Organisation of Petroleum Exporting Countries, which pumps a third of the world's oil, has agreed to restrain production in order to help prices up.
At a meeting in Vienna on Thursday, the producers' cartel was reported to be agreed on a continued cut in output until the end of next year.
That brought the price of a barrel of Brent crude close to $65. It fell from $115 in summer 2014 to reach a low point below $30.