Unite union calls for action over RBS closures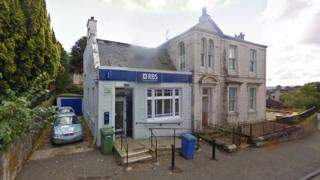 The Unite union has described the Royal Bank of Scotland's decision to close 62 branches as "morally bankrupt".
In a letter to Business Minister Paul Wheelhouse, the union described the taxpayer-owned bank's move to shut 62 branches as "morally bankrupt" and called for action to be taken.
It said RBS had reneged on a promise never to close a branch when it was "the last bank in town".
Mr Wheelhouse said powers over banking remain reserved to the UK government.
However, he added that he would seek to discuss with Unite officials "what pressure we can jointly put on the UK government".
The Treasury said after the closures were announced that it did not interfere with commercial decisions.
RBS has defended the closures, arguing that the move is in response to "many more customers" accessing services online or via mobile devices.
RBS plans 'about money'
It has also stressed the majority of areas affected by closures would have either a community banker or mobile branch available.
In the letter to Mr Wheelhouse, Unite's deputy Scottish secretary Mary Alexander said: "Some years ago, during a previous closure programme, the directors of RBS made a pledge that they would never close one of their branches when it was 'the last bank in town'.
"They have long ago reneged on that promise.
"They say they are the Royal Bank for Scotland. Tell that to the folk in Bannockburn, Beauly, Biggar, Carnwath, Castlebay, Corrie, Douglas in Lanarkshire, Gretna, Inveraray, Kilwinning, Melrose, Stepps and Tongue."
Ms Alexander added: "The plans are not actually about inefficient, under-used services for the most part. They are about money, and making more of it for RBS shareholders.
"We actually believe RBS is morally bankrupt."
The letter also stated: "Unite Scotland is seeking a meeting with you, at your earliest convenience, to consider what the Scottish government is going to do to convince RBS to change course to avert the social catastrophe that is likely to follow the implementation of these current plans."
'Matter of urgency'
Mr Wheelhouse said he would be happy to meet Unite officials to discuss the impact of closures on staff and customers.
He said legal and regulatory powers over banking were reserved to the UK government, which also owned a controlling stake in RBS.
But he added he would "seek to discuss with Unite what pressure we can jointly put on the UK government to use its position to act in the interests of customers, communities and businesses that will be affected by branch closures".
He added: "I have already spoken with senior management at RBS on Friday, and will seek support for a joint meeting with the UK government and RBS, as a matter of urgency, when I discuss the issues with the Economic Secretary to the Treasury on Monday."
In announcing the closures on Friday, RBS said the number of customers using its branches in Scotland had fallen by 44% since 2012, while the number of regular mobile users had increased by 39% since 2015.
It said: "As customers continue to change the way they bank with us, we must change the way we serve them, so we are investing in our more popular branches and shaping our network, replacing traditional bricks and mortar branches with alternative ways to bank, including community bankers, Mobile Bank on Wheels, and Post Offices, so that we can reach even more customers."
'People power'
An independent review of the Access to Banking protocol in 2016 aimed to minimise the impact of bank branch closures on customers and local communities.
The RBS spokeswoman added: "According to the Access to Banking Standard banks are not required to consult with communities before announcing a closure as Unite suggest."
Margaret Davidson, leader of Highland Council told BBC Radio's Good Morning Scotland programme rural communities were being let down.
"There'll be people the length and breadth of the country protesting about this one," she said. "I think we are going to have to resort to some people power. We're going to have to talk about petitions and what else people can do to make that anger known.
"The Royal Bank owes us better than this. They could , at least, have come and talked about alternatives and let us know sooner."