EY forecasts Scottish economic growth to pick up pace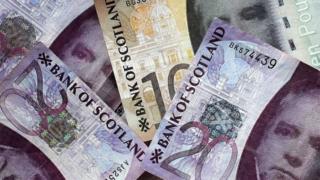 Economic growth in Scotland is expected to pick up pace and match the UK-wide performance next year, according to a report.
The EY Scottish Item Club forecast puts GDP growth north of the border at 1.4% for 2018, equalling the UK figure.
That suggests a significant improvement on 2017, with the report predicting Scottish growth of 0.8% for this year.
Household spending is expected to be a key driver behind the stronger performance.
However, the report warned its forecast assumed that some of the uncertainty over Brexit will ease next year, leading to increased business confidence and investment.
It added: "If there is not progress in 2018 towards a transition arrangement, then that would be likely to affect our forecast for the year."
Greater clarity
The item club also forecast a weakening of employment growth in Scotland next year, slowing to 0.4% and stagnating the following year, after a strong performance in 2017.
Looking further into the future, the report forecast an annual average Scottish economic growth rate of 1.7% a year to 2022, below a projection of 2% a year for the UK over the same period.
EY chief economist Mark Gregory said: "The longer-term, five-year growth projections act as a reminder that the pace of growth comparable to the rest of the UK can be difficult to maintain and an enduring focus on how to grow Scotland's economy must be a priority.
"Unsurprisingly, Brexit is the biggest unknown factor in Scotland's immediate economic future.
"If uncertainty around this issue eases and government can provide greater clarity for business, we can hope to see an increase in business confidence and investment.
"This will undoubtedly be assisted by government and business working together, harder and smarter than before."