Scottish unemployment rises by 8,000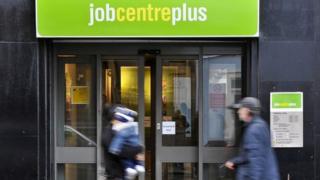 Scotland's jobless total rose by 8,000 in the three months to October and now stands at 114,000, according to official figures.
The unemployment rate increased by 0.3% to 4.1%, which was below the UK rate of 4.3%.
The Office for National Statistics (ONS) also found that Scotland's employment rate for those of working age fell by 0.9% to 74.9%.
The fall of 32,000 brought the total of those in work to 2,555,000.
For the UK as a whole, unemployment declined by 26,000 between August and October to 1.43 million.
In Scotland, female unemployment fell by 15.8% over the period to 39,000. In contrast, the number of men without a job went from 59,000 to 74,000 - a rise of 25.5%.
Meanwhile, wage growth fell behind inflation for a seventh month in a row, according to the ONS figures.
Average weekly wages rose by 2.3% in the three months to October, below inflation at 3%.
Real earnings, which takes into account the cost of living, fell by 0.2%.
Scotland's Employability Minister Jamie Hepburn said: "While these latest figures show that employment is up by 1.7 percentage points over the year, it is disappointing to see a slight fall in employment and a slight rise in unemployment over the last quarter.
"However, our overall unemployment rate remains lower than the UK's, and it is also encouraging to see youth unemployment rates continuing to outperform the rest of the UK.
"This comes on top of us fulfilling our commitment to reduce youth unemployment by 40%, four years ahead of schedule.
"It is also encouraging to see that female employment in Scotland continues to remain higher and unemployment lower, than the rest of the UK."
'Disappointing'
Scottish Secretary David Mundell said the rise in unemployment was "disappointing" and a "reminder of how important it is that the Scottish government uses its extensive new powers to tackle Scotland's economic challenges".
He added: "We have delivered on our commitment to make the Scottish Parliament more powerful and more accountable to people in Scotland.
"The Budget on Thursday is an opportunity for the Scottish government to set out how it will use its new powers to drive economic growth.
"It is for Holyrood to decide how to use its new income tax powers, but I have been clear that making Scotland the highest taxed part of the UK would harm our economy, be bad for business and put jobs at risk."
Reacting to the latest data, Dr Stuart McIntyre from the Fraser of Allander economic institute said: "Unemployment rising and employment falling is likely to be an unwelcome economic backdrop to Thursday's Budget.
"But today's rise needs to be put in the wider context of near-record levels of employment. And an unemployment rate of just 4.1% - even after today's rise - is remarkably low by historical standards.
"However, with weak forecasts for economic growth through 2018, I wouldn't be surprised to see labour market outcomes continue to weaken through the start of 2018."
'Unsettling figures'
The Federation of Small Businesses in Scotland described the latest labour market figures as "unsettling".
Scottish policy convener Andy Willox said: "Tomorrow's Scottish government budget is a key opportunity for ministers to set out their ambitions for the country.
"A majority of Scottish firms are against changes to income tax, but that doesn't mean there isn't action which ministers could take to kick-start growth and help firms create jobs.
"Addressing long-term problems with local roads and pushing forward with plans to deliver universal broadband would be good places to start."
Scottish Chambers of Commerce chief executive Liz Cameron said: "For the seventh consecutive month, today's figures show that wage growth has failed to outpace inflation, with the CPI rate of 3.1%, further biting into household disposable income.
"Vacancies are also now sitting at a record high across the UK.
"This further emphasises the importance of continued investment into training and workforce skills, and the continued need for business to have access to a migration system that enables firms to recruit from outside of the UK when required."