Glamcandy set to expand after six-figure investment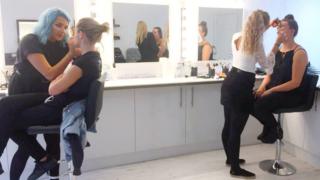 A Scottish make-up college has announced plans to expand across the UK.
The move by Edinburgh-based Glamcandy follows a six-figure investment by entrepreneur Julian Kynaston.
Mr Kynaston was behind the Illamasqua make-up range, which he sold in September to the Hut Group for £25m.
Glamcandy said it planned to hire up to 50 new staff as make-up artists, tutors and ancillary workers "over the coming years" as the business grows.
The private firm currently operates courses in Edinburgh and Dunfermline, as well as Glasgow, Aberdeen and Inverness.
Glamcandy director Hayley Harvey Smith said: "As with all our courses, we'll also be teaching our students important business and employability skills as well as teaching them make-up artistry.
"Our graduates have the potential to go on and set up their own businesses or pursue new careers with their skills."
Glamcandy was established five years ago. This year it became the first private make-up college in Scotland to run SQA-approved courses in schools.