Whatever happened to 'Jam Boy' Fraser Doherty?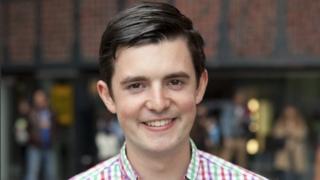 If the name Fraser Doherty isn't familiar to you, then perhaps the sobriquet "Jam Boy" will strike a chord.
A decade ago, Fraser hit the headlines as the inventor of SuperJam - a sugar-free preserve which went on to become a familiar sight on the shelves of most of the UK's major supermarkets.
He had been propelled on to the stage by his story - a 14-year-old boy who had started making jam based on his grandmother's recipes before persuading Waitrose to stock his products across their UK stores.
He was just 18 when the breakthrough came. It was to lead to a clutch of entrepreneurial awards and later an MBE.
But it was not a straightforward journey.
He recalls: "In 2003 I started off making jam on a tiny scale, selling it in the neighbourhood, farmers markets and local shops. It grew and grew and it became my ambition to sell it to a big supermarket.
"So one day, I convinced my dad to drive me to Waitrose. I borrowed his suit - probably about four sizes too big for me - and got a chance to pitch my idea to a supermarket buyer.
"At first they said no - the labelling was all wrong, the price was wrong. I didn't really know what I was doing. But after a couple more attempts and a bit of advice, eventually they agreed to put it on their shelves all over the UK."
Edinburgh-based Fraser went on to prove that it's possible to make plenty of bread out of jam.
Before long, his products were being stocked in big chains such as Tesco, Sainsbury's, Morrisons and Asda and his business was turning over about £1m a year.
But as the years went on, one by one the big supermarkets dropped SuperJam from their listings. Only his original backers, Waitrose, stood by him - as they do to this day.
That might have been the end of Fraser's fairytale story, had it not caught the imagination of South Koreans.
"Some entrepreneurs in Korea heard about my story and asked if they could try and sell my jam over there," he explains.
"I said 'sure, let's give it a shot', so they ordered a couple of hundred jars, then a couple of thousand jars, then 20,000 jars.
"Then I was invited by South Korea's answer to Martha Stewart to appear on her home TV shopping show."
Cardboard cutout
That proved to be more problematic than he bargained for as he was told he would have to speak in Korean.
Fraser recalls: "I spent a few months practising some key phrases in Korean.
"I tried my best, memorised a few sentences and recorded the show. Later unfortunately I found out my part had been edited out.
"I had been replaced with a cardboard cutout of myself.
"I think what happened was that I had rehearsed the answers in a set order and I don't think they stuck to that, so I was answering question number three when it was question number one."
The setback did nothing to hurt sales, however. Soon South Korea was to became SuperJam's biggest market, accounting for several hundred thousand jars a year.
Fraser puts that down to Korea's appetite for British products and a fascination for his story as a boy who made it big in the world of business.
Japan also picked up on his story, with one station broadcasting a TV drama about his life.
Fraser says: "I think something got lost in translation when they cast an Indian boy to play me, but never mind."
It seems Fraser's story still resonates to this day.
He estimates that he has given hundreds of motivational speeches at business conferences and universities around the world.
His invitations have come from corporate giants such as RBS and Unilever, as well as small businesses.
He explains: "I don't pretend to be an expert in anything but if people can take something from my story and it can encourage them to pursue their own ideas or to think about their own business in a different way, then that can be a great thing."
So what is he most commonly asked at a speaking event?
"Probably the number one thing is how do you motivate yourself when things don't go right, when you do have a setback," he replies.
"In my case, probably the biggest setback was when Waitrose said 'No' when I was a teenager. I thought I had it in the bag and it turned out if was far from that.
"It was a point where I thought about giving up. The reason I didn't was that I listened to the feedback from the customer.
"Not every idea you try is going to work. Probably the first version of an idea is going to be wrong.
"But if you are willing to give it a shot and then listen to the feedback that you get from customers, maybe change it, try something else then you probably will stumble upon something that does work."
Aside from his motivational work, Fraser's focus in recent years has shifted away from his jam business, which he says is now "ticking along".
A few years ago, he linked up with fellow Scottish entrepreneur James Brown to co-found Beer52 - an Edinburgh-based club which imports craft beer from around the world.
'Huge amount of fun'
His hands-on job includes visiting countries near and far to sample potential brew selections for subscribers.
Fraser says the firm now ships hundreds of thousands of bottles of beer every month to UK customers.
So does he miss being in the limelight as Jam Boy?
"I wouldn't say I miss anything," he says.
"It was a huge amount of fun at the time and I got to have a lot of experiences that I remember really fondly, and met a lot of interesting people.
"I am still having a lot of fun tasting beer every week and visiting breweries and beer festivals, so it is certainly a great place to be."