Scottish firms increase research and development investment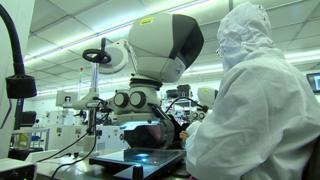 Scottish firms have stepped up their low rate of investment in research and development to top £1bn, according to Scottish government figures.
The statistics reveal the 2016 growth rate in private sector research spending was 10%.
That figure was three times faster than for the UK as a whole.
But it was well below Scotland's population share of the £22bn UK total, and remains one of the key weaknesses of the nation's economy.
Nearly 12,000 people are counted as being employed in research and development roles in Scotland.
More than a quarter of last year's spend was in Edinburgh, with the other main centres being Aberdeen, West Lothian and Glasgow.
Manufacturing accounted for nearly three-fifths of the Scottish total, rising by 12% to a £592m spend during 2016.
Research and development in the services sector fell last year to £366m.