Toys R Us confirms Scottish store closures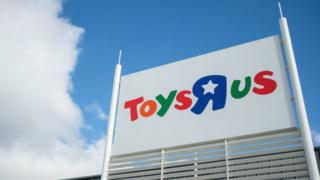 Toys R Us has confirmed that four of its Scottish stores will close next spring, putting dozens of jobs at risk.
The announcement came after creditors backed a rescue plan for the troubled UK retailer.
The plan entails closing 26 of its 105 outlets, including stores in Livingston, Kirkcaldy, Aberdeen and East Kilbride.
The company said it would "make every effort to relocate affected staff, where possible".
Toys R Us currently has 11 outlets in Scotland.
The retailer's creditors met on Thursday to vote on the rescue plan, which hinged on a resolution of the pension deficit.
The company's UK staff pension scheme has a deficit of more than £25m.
Toys R Us will continue to trade under its company voluntary arrangement (CVA), which is a step short of going into administration.