Profits boost at Dundee-based publisher DC Thomson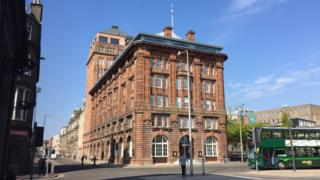 Dundee-based publisher DC Thomson & Co has boosted its profits through its substantial financial assets and diversifying away from print.
It comes as advertising revenue has dipped at its press titles which include the Press and Journal, Dundee Courier and The Sunday Post.
Revenue rose by less than £2m to £277m.
Pre-tax profit at the private and conservative family firm was up from £31m to £38m, according to accounts lodged with Companies House.
"Trading conditions in the advertising and book sectors were difficult," wrote directors.
The firm gained £93m in the sale of financial assets. Over the year to the end of March, financial assets had increased from £566m to £629m.
Total assets were put at more than £1.4bn.
Unusually, the accounts show the pension fund was last year running a surplus of £185m. The dividend pay last year ran to £21m.
The accounts set out a strategy to support the established publishing business by diversifying into new ventures.
In publishing and printing, circulation was down 1% to £78m, while advertising fell 9% to £41m.
The business accounts say recent growth in digital earnings from publishing is levelling off, having risen 6% last year, to reach an eighth of earnings.
The industry had hoped digital would replace print advertising, but other advertisers have also seen growth stall.
DC Thomson publishes comics including The Beano, women's magazines, puzzle magazines and titles including The Peoples Friend, The Scots Magazine and This England.
Its books division, Parragon, publishes children's, cookery, reference and Christmas annuals. The last financial year saw business down 3% at £76m.
New ventures
The division is moving its focus from the European to the US market with a "strategic change in operations, involving a new senior management team".
In recent years, new ventures have included genealogy, cloud data services, online gift catalogues and wholesales and cartoon films.
Brightsolid Online, the technology business, saw revenue rise by 19% last year to nearly £7m, with a new data centre in Aberdeen.
Find My Past saw revenues grow in the US, Ireland and Australia. But overall sales were down, as the company ceased to run the Scotland's People family tree research service for the General Registers of Scotland.
Further digitising of US marriage and church records is intended to lead to a stronger pitch for American sales.
The accounts stated: "Our trading operations have been affected by challenges to revenues but the core publishing business continues to trade well in comparison to our peers."