Springfield Properties to prepare homes for electric cars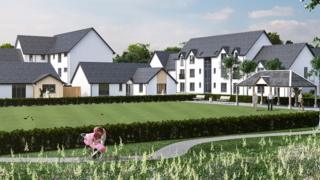 A housebuilder has committed to installing cabling for electric car charging points in all new-build homes.
Springfield Properties said the move would make it one of the first firms in the UK to include infrastructure for vehicle charging as a standard feature.
It will incorporate cabling "at the most practical point" in each home so a charging point can easily be installed.
Elgin-based Springfield is including the feature at its new 3,000-home development in Perth.
Springfield chief executive Innes Smith said: "The Scottish government has pledged that by 2032 all new vehicles sold in this country will be electric, but we anticipate that the uptake will increase rapidly long before then.
"One of our values as a company, is to include everything a customer needs in their new home, so, with this is mind, we wanted to make it as easy as possible for our customers to go electric."
Scotland's Transport Minister Humza Yousaf welcomed the announcement.
He said: "The ability to charge electric vehicles at home helps reduce barriers to ownership.
"With Scotland already leading the way with sales of electric and alternative fuelled vehicles rising faster than the rest of the UK, this is another positive step by industry in support of our vision to phase out the need for new petrol and diesel cars and vans by 2032."