AG Barr: Response to new Irn Bru recipe 'encouraging'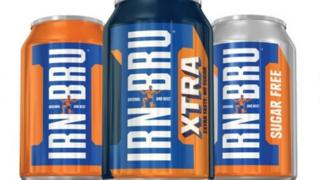 Irn Bru maker AG Barr has reported an "encouraging" response by consumers to the fizzy drink's new low-sugar recipe.
The Scottish firm stopped making the original full-sugar version early last month ahead of the introduction of a new soft drinks sugar tax in April.
The move prompted a backlash, with fans stockpiling Irn Bru ahead of the recipe change.
But AG Barr said "extensive research and testing" had given it confidence that it had "an excellent taste match".
The Cumbernauld-based firm added that while the response to its new formula had been encouraging, it acknowledged that it was still "early days".
AG Barr also said it expected 99% of its drinks to be low sugar - containing less than 5g per 100ml - by the time the sugar tax comes into force.
This is up from an earlier target of 90%.
AG Barr's soft drinks portfolio includes brands such as Rubicon and Tizer.
'Challenging year'
The company's comments came as it revealed an expected 7.5% jump in group revenues for the year to 27 January, despite the low-sugar shift.
It said profits were set to be in line with City expectations, but added that it had not been "immune to the external cost pressures faced by many businesses throughout 2017", in particular the weak pound.
Looking ahead, the firm said 2018 was set to be another "challenging year for UK businesses against a backdrop of continued uncertain economic conditions".
It added: "In addition, the soft drinks industry faces significant changes in regulation, customer dynamics and consumer preferences, bringing both challenges and opportunities."