TC BioPharm confirms cancer therapy development deal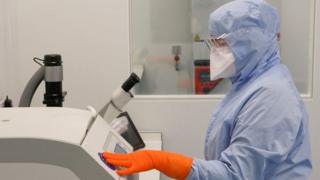 A Scottish biotechnology firm has teamed up with a Japanese pharmaceutical company to develop a new type of cancer therapy.
TC BioPharm says the immunotherapy treatment will target cases of multiple myeloma and certain lymphomas.
The product will be developed using TCB's unique CAR-T platform which leaves healthy cells untouched.
TCB, which has premises in Glasgow and Edinburgh, says it has potential pre-market income of more than $1bn.
The collaboration with Osaka-based NIPRO is TCB's first major pharmaceutical deal based in Asia.
NIPRO will provide funds in the form of up-front fees, milestone payments and research support to progress clinical studies.
'Formidable presence'
The Japanese company will have an exclusive right to sell and distribute CAR-T products worldwide.
TC BioPharm chief executive Dr Michael Leek said: "This commercial collaboration represents the cutting-edge of cell-based immunotherapy, providing clinicians and cancer patients access to next-generation, safe, innovative oncology products.
"We are privileged to be working alongside the NIPRO Corporation as they continue to build a formidable presence in the regenerative medicine sector."
TCB, which employs 50 staff, is already working with clinical centres of excellence to treat cancer patients in various cities including Glasgow, Edinburgh, Oxford, Southampton, London and Cardiff.
It has raised more than 25 million euros (£22.4m) in funding since starting operations in February 2014.
Last year, the company secured 4m euros (£3.6m) of European Union funding to develop next-generation cancer therapies for multiple tumour types.