Shortage of homes for sale pushes up Scottish prices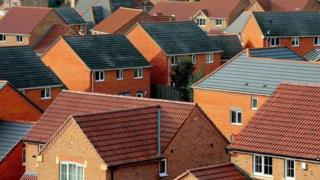 House prices have been pushed up in Scotland by a shortage of homes available for sale, a survey has indicated.
The research for the Royal Institution of Chartered Surveyors (RICS) suggests its members in Scotland have seen prices go up.
The trend appears to be more established in Scotland than in the UK as a whole.
Responses indicated the overall level of sales fell in January.
The RICS research is contained in its January residential market survey.
Positive outlook
RICS Scotland director Gail Hunter said: "Surveyors remain positive about the prospects for the housing market in Scotland.
"However, they also point to a shortage of properties becoming available for sale, which will have a constraining effect on sales activity and potentially push up prices further.
"Anecdotally, surveyors continue to report that the changes to Land and Buildings Transaction Tax are having an ongoing negative impact on instructions to sell in the middle to the prime brackets of the market, and this is having a detrimental trickle-down effect in other house price brackets."
January was the 10th consecutive month in which the number of houses coming onto the market was reported to have fallen.
Surveyors remain fairly confident, however, about the prospects for the next three months.
A clear majority of them expect sales activity to increase in the period from February to April.