Recruiters report starting salaries at three-year high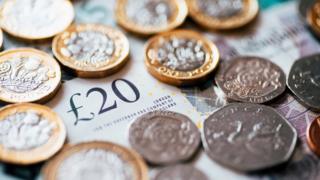 Starting salaries in Scotland have gone up at their quickest rate in more than three years, according to a survey of recruitment agencies.
The Recruitment and Employment Confederation (REC) said increasing competition for "good quality staff" meant employers were willing to pay more to attract the right people.
It suggested "now could be a good time to move jobs".
REC added the UK was now "plagued by labour, skills and talent shortages".
However, the report - carried out by IHS Markit - also suggested employers were not increasing wages for their existing workforces.
Wage inflation for temporary jobs in Scotland softened to a 15-month low in January, and was the weakest of all surveyed UK regions.
Meanwhile, the report indicated a sharp rise in the number of people securing permanent jobs.
There was also an increase in the number of temporary staff finding jobs, following a modest decline in December.
However, the availability of both temporary and permanent staff contracted last month.
REC warned the struggle to find appropriate candidates would get worse.
The survey indicated that growth of demand for permanent and temporary staff in Scotland moderated during January.
Although the number of permanent vacancies increased sharply, the pace of expansion weakened to a one-year low.
Meanwhile, demand for temporary staff rose at the softest pace since August 2016.
REC chief executive Kevin Green said: "It's reassuring that demand for permanent staff is stable, despite the economic uncertainties businesses are facing.
"However, we should keep an eye on the slower growth in demand for agency workers. This could be a sign that employers are hesitating."
The report is based on a monthly survey of about 100 recruitment and employment consultants.