Scotch whisky exports hit record high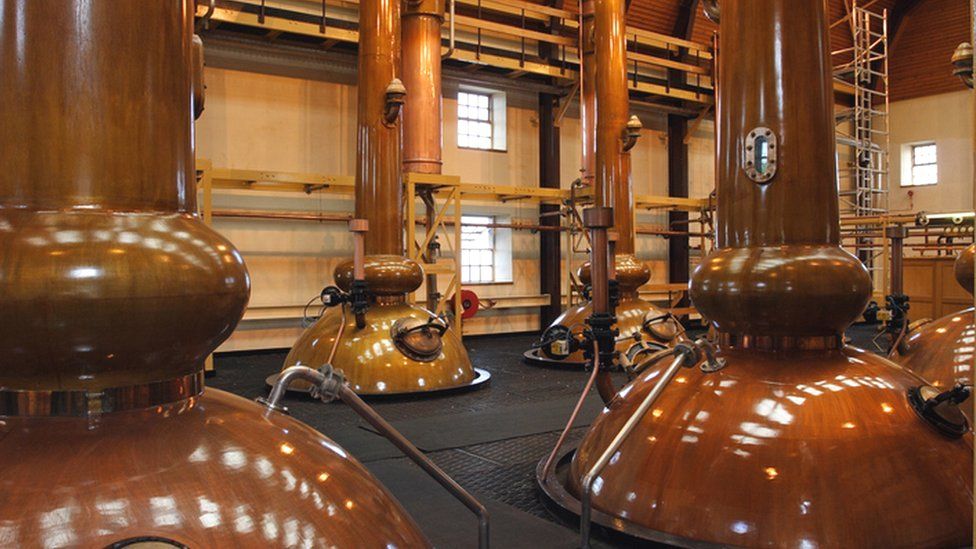 Scotch whisky exports hit a record high last year as single malt sales continued to climb, according to newly-released figures.
Data from HM Revenue and Customs showed overseas sales reached £4.36bn, with the equivalent of more than 1.2 billion bottles exported globally.
Scotch sales grew in volume by 1.6% and in value by 8.9%.
The previous high recorded in terms of export value was just under £4.3bn in 2012.
Scotch whisky now accounts for more than 20% of all UK food and drink exports.
The Scotch Whisky Association (SWA) said last year's figures were boosted by a weaker pound and the growth of single malt exports, which grew by 14.2% to reach nearly £1.2bn.
Overall, the European Union accounted for 31% of overseas sales. North America and Asia/Oceania were second and third, with a share of 26% and 22% respectively.
Largest export destinations for Scotch in 2017 - defined by value:
SWA chief executive Karen Betts described the figures as "encouraging".
She said: "Scotch whisky is not just a core part of Scotland's national identity and heritage, it is also a fundamental part of our export economy.
"It's very important to the industry that our global markets remain robust and resilient as the UK navigates Brexit and establishes new trading relationships around the world."
She added: "We have undoubtedly benefited from recent falls in the value of the pound, as have other exporters.
"But this short-term boost will not distract the industry from working hard to secure the conditions for long-term growth.
"With over 30% of our trade with EU, it is vital that the UK government secures transition that allows frictionless trade to continue with European markets and with those countries with which the EU has free trade agreements."
Meanwhile, the UK's rare whisky auction market has exceeded £25m in a single year for the first time on the back of rising global demand, according to industry analysts.
Rare Whisky 101 said both the volume and value of rare Scotch whisky sold at auction increased by record amounts in 2017.
The value of collectable bottles of single malt sold at auction in the UK rose by 76%, while the number of bottles sold increased by 42% to 83,713.
The most expensive bottle to sell at auction in the UK was a bottle of 62-year-old Dalmore - one of 12 originally released - for £95,000.