Bypass firm Galliford Try to raise £150m after Carillion collapse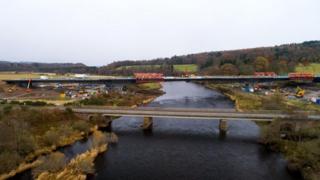 Building firm Galliford Try plans to raise £150m from investors after Carillion's demise left a cash shortage on the Aberdeen Bypass project.
The company announced the plan on Wednesday, revealing a £25m exceptional charge in its half-year results.
Bypass partners Galliford Try and Balfour Beatty must now cover the costs arising from Carillion's collapse.
They said the fundraising would ensure they did not have to divert money away from other projects.
Carillion went into liquidation in January, after talks between the company, its creditors and the UK government failed.
'Exceptional charge'
It is involved in several infrastructure projects in Scotland, including the electrification of the central Scotland railway line and the extension of platforms at Edinburgh's Waverley Station.
Other major projects involving Carillion include the HS2 high-speed rail line, as well as managing schools and prisons.
Galliford Try announced the plan in its half-year results, as "additional joint venture contributions arising from Carillion Plc (Carillion) failure prompt exceptional charge of £25m."
Chief executive Peter Truscott said: "We have reviewed the impact on our business from the compulsory liquidation of Carillion, which has resulted in a further reassessment of the likely out-turn from our participation in the Aberdeen Western Peripheral Route (AWPR) joint venture, leading to an exceptional charge of £25m.
"Reflecting the additional financial obligations arising from this contract, we have today announced our plans for a capital raise of £150m."
The 58km long Aberdeen bypass is scheduled to open later this year. It is one of the biggest infrastructure projects in Scotland with an estimated cost of £745m.
'Carillion's announcement'
Scottish Labour MSP Lewis Macdonald said the development was "deeply concerning".
He added: "SNP minister Keith Brown has repeatedly insisted the AWPR works will not be affected by Carillion's collapse - but that now seems to be anything but true."
He added: "Mr Brown must now urgently reassure communities and workers in the north-east that work and jobs on the AWPR will not be adversely affected by this latest announcement."
A Transport Scotland spokesman responded by saying that Aberdeen Roads Limited had continued to say it remained fully committed to completing AWPR.
He added: "The agreed cost of the contract is fixed and as such there has been no change to the overall project budget of £745m.
"It is in the interests of all partners to complete the project and open the new roads as quickly as it is safe to do so.
"We are continuing to work closely with Aberdeen Roads Limited to identify any impacts on delivery following Carillion's announcement, including any elements that can be opened early, over and above those sections already opened.
"We will then consider the necessary mitigation that may arise as a consequence of this issue."