Standard Life Aberdeen sees £100bn contract axed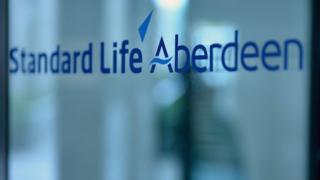 Lloyds Banking Group and Scottish Widows have ended a £100bn asset management contract with recently-merged Standard Life Aberdeen.
They said last year's merger between Standard Life and Aberdeen Asset Management created competition issues.
Keith Skeoch and Martin Gilbert, chief executives of Standard Life Aberdeen (SLA), said they were "disappointed".
But SLA said, despite the size of the contract, it represented less than 5% of its 2017 revenues.
Shares in Standard Life Aberdeen dropped as much as 10% for a time after the announcement, before settling about 5% lower.
The deal to manage the £109bn of assets was first taken on by Aberdeen Asset Management in 2014 when it bought Scottish Widows Investment Partnership (SWIP) from Lloyds.
But there was a clause allowing Lloyds to end the mandate if Aberdeen merged with a competitor.
This was triggered by last summer's £11bn tie-up between Standard Life and Aberdeen Asset Management, creating Europe's second-biggest fund manager.
Analysis by Douglas Fraser, BBC Scotland business and economy editor
It's reckoned that more than a trillion pounds of investment funds are now managed out of Edinburgh, which is quite a vote of confidence from those who trust asset managers with their moola.
Roughly two-thirds of that has been at the newly-merged Standard Life Aberdeen, last September managing £648bn.
For those who see Scotland's financial world as a wee bit too cosy, this Scottish Widows announcement proves that relationships within this asset management community can get quite rocky.
Material competitor
The decision to end the deal means SLA will take a one-off impairment charge of £40m.
Antonio Lorenzo, chief executive of Scottish Widows and group director of insurance and wealth at Lloyds, said the merger meant its assets were being "managed by a material competitor".
He said it was "now appropriate to review our long-term asset management arrangements".
The investment management deal will end after a 12-month notice period.
Laith Khalaf, senior analyst at Hargreaves Lansdown, said it was a "blow" for Standard Life Aberdeen.
He added: "Losing this book of business would strike a sour note for the Standard Life Aberdeen merger, and undermines some of the rationale for joining forces, which was built on scale.
"However, while almost a fifth of Standard Life Aberdeen's assets look like they might be walking out the door, this only equates to 5% of revenues, as these investment services are relatively low margin."