Rocky relationships within asset management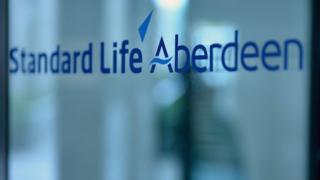 Standard Life Aberdeen, the newly-merged financial giant, is set to lose a large tranche of the assets it has been managing, after Scottish Widows pulled out of a partnership deal.
It is reckoned that more than a trillion pounds of investment funds are now managed out of Edinburgh, which is quite a vote of confidence from those who trust asset managers with their moola.
Roughly two-thirds of that has been at the newly-merged Standard Life Aberdeen, last September managing £648bn.
For those who see Scotland's financial world as a wee bit too cosy, this Scottish Widows announcement proves that relationships within this asset management community can get quite rocky.
Poor performance or fee competition are more often the spurs when companies shift their funds to new managers.
Take, for instance, Alliance Trust, in Dundee, which last year moved from in-house to farmed-out asset management.
But in this case, it was a question of competition.
Scottish Widows, alongside Lloyds' Wealth division, appreciate what Standard Life Aberdeen have been doing with the funds.
But they are in competition with the retail end of the newly-merged firm - selling pension, insurance and investment products.
The big battle, of late, has been to sign-up workplace pension schemes as these have burgeoned, through legislated requirement.
Lloyds' subsidiaries don't want to be putting the best part of £100m into SLA's revenue stream, if it helps that rival to compete.
Lloyds gave Standard Life Aberdeen six months to settle down their merger and address the problem. That six months is now up.
Attempts to find a way round the competition clash haven't come to much, according to Scottish Widows and Lloyds. Indeed, there may not have been much of an attempt.
So they're taking their £109bn (at recent valuation) and looking to find a new strategic partner. Or several of them.
That's a significant blow to the newly-merged firm.
The point of putting together Standard Life with Aberdeen Asset Management was to achieve a larger scale with which to operate more efficiently, and wield more investment clout.
Removing that much in assets means a loss of more 15% of funds.
The company plays down the impact, pointing out that earnings from the funds is 5%. That's because they don't generate as much fee income as other assets. (Other customers might wonder if they can get a similar low-fee deal.)
Nothing will change for another 12 months, as the break-up of this four-year partnership requires a full year's notice.
A change to new managers of the funds should be complete in the first half of next year.
That's unless SLA can find a more compelling response - somewhere between a complete split of asset management from retail, or perhaps a major re-brand?
Or perhaps lower fees might help persuade Lloyds and Scottish Widows to stay.
Note that this is the start of a review, not a firm decision to withdraw.