Protests held over RBS branch closures in Scotland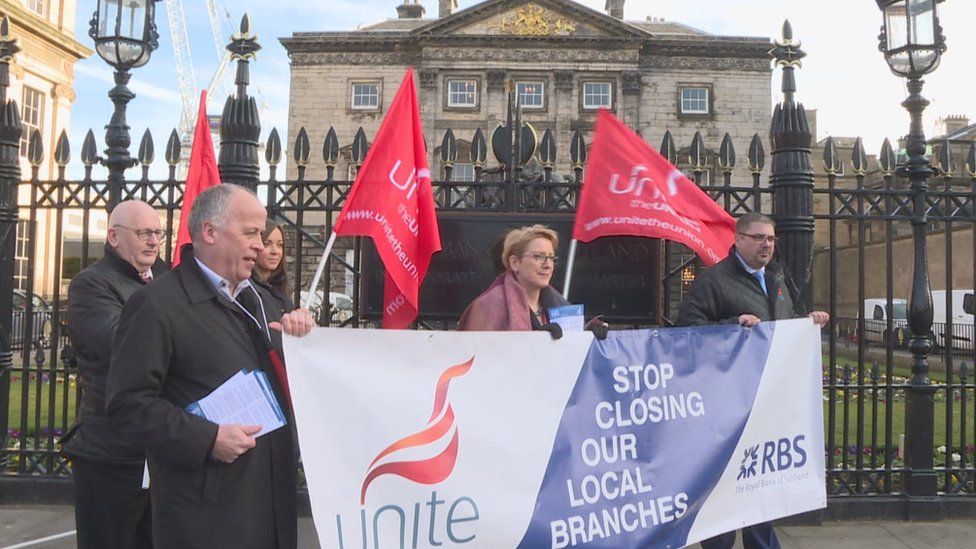 Members of the Unite union have held protests against plans to shut more than 60 RBS branches in Scotland.
It made an operating profit of £752m. Chief executive Ross McEwan told the BBC it was "a really symbolic moment."
In December, RBS said it would shut a total of 62 branches north of the border, with the loss of about 158 jobs.
Earlier this month, 10 of those closure-threatened branches were given a stay of execution when the bank said they would remain open until at least the end of the year.
It said the vast majority of the reprieved branches were in communities where there was no other RBS branch within a nine-mile (14km) radius.
Unite said its members were staging a "Day of Action" against the closures, with protests in several locations including Edinburgh, Aberdeen, Selkirk and Wick.
The union said the RBS annual report showed the bank was a "cash rich institution".
Speaking on the BBC's Good Morning Scotland radio programme, the union's deputy Scotland secretary Mary Alexander said the announcement that RBS had made a profit last year was "even more reason" to stop the branch closures.
"We think there is no justification for RBS to take the axe to communities across Scotland," she said.
"We are not challenging the fact that people are moving to digital banking, but there are still a huge number of people who like to go to the bank. We'd like the bank to show us the figures they have for footfall.
"We believe there is a role for having a branch, particularly in these parts of Scotland."
She added: "We note Ross McEwan said this morning that RBS is no longer a bad bank, well we would like them to demonstrate that it's no longer a bad bank and reconsider these closures."
RBS' annual profit for last year compared with a £6.95bn loss the year before.
The bank still faces a potentially massive fine from the US Department of Justice over the sale of financial products linked to risky mortgages.
RBS chief executive Mr McEwan told BBC Scotland that restructuring had helped get the bank into a better position.
"This bank was at one stage in 50 countries. We are now down to operating mainly in the UK and Ireland - although we operate in about another 12 odd countries," he said.
"It's been a massive transformation to bring it back home...and it's nice to see that it is really starting to work."
Asked about the branch closures, Mr McEwan said: "The reality is that our usage of our branches is down 36% in just the last three years. Customers have moved to electronic formats, be that online or using a mobile device.
"Last year alone, we had a 14% increase in electronic payments usage."
He also highlighted mobile van branches, postal services and community bankers as other ways the bank was seeking to support customers and give "that personal touch" to those in the most rural communities.
The RBS chief executive added: "Of all banks, I think we are doing more than anybody else.
"But we did have more branches than others and some of those branches are just not being used to any extent that they were in the past, so we have to make the changes."