Real estate sector 'worth £2.4bn to Scottish economy'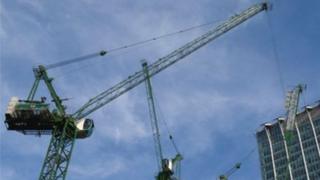 The Scottish real estate sector has had a £2.4bn valuation placed on its annual direct economic impact.
The Fraser of Allander Institute found it directly supports 49,000 jobs - and much of the construction industry.
With additional spill-over effects, that impact is calculated at £4.8bn and 92,000 jobs in total.
The economics unit at Strathclyde University was commissioned to assess the scale of real estate activity for the Scottish Property Federation.
It also calculated the possible impact of further investment, saying that £100m of investment leads to a further £73m of economic impact.
The analysis suggests there is a shortfall in the amount of space for further investment, with less being built now than a decade ago, with a fall from 7.1m square feet in 2009 to only 1.6m square feet last year.
'Challenging times'
The value of sales of commercial property has also fallen sharply.
David Melhuish, director of the Scottish Property Federation, said "The industry has experienced challenging times in recent years due to the economic downturn and fragile levels of business and consumer confidence which has led to a dampening of growth."
He added that the industry association is working with the Scottish government to remove barriers to additional investment, highlighting the case for Grade A office space - "a vital component in attracting businesses to locate or indeed remain in Scotland".