ScotRail strike planned over CCTV staff numbers dispute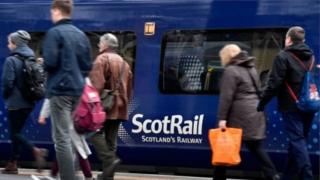 A transport union has voted for strike action at ScotRail in a dispute over numbers of CCTV-monitoring staff.
The TSSA said there was a "criminally negligent" shortage of staff in the specialist role, which they said was undermining safety on the network.
The union said a vote last year for strike action was not progressed after concessions were won.
ScotRail said the proposed changes would improve safety on its trains for staff and customers.
The TSSA (Transport Salaried Staff Association) said a company-wide severance programme was badly managed after it accepted applications from 17 of 22 CCTV specialist staff.
'Strike is inevitable'
TSSA general secretary Manuel Cortes said: "It's now frankly criminally negligent of ScotRail to have authorised the severance of specialist staff which has left our remaining members working flat-out on over-stretched rosters as they try to bridge the yawning gap in the resources needed to run the network safely.
"Let's hope ScotRail now see sense. If they don't, a strike is inevitable."
ScotRail said it would continue discussions with staff, although it was "disappointed" by the vote.
ScotRail's sustainability and safety assurance director David Lister said: "The vast majority of our employees are very positive about the investment we are making.
"The safety of our employees and customers is our priority, which is why our proposals will improve safety and enhance the information we provide to our customers. It is wrong and misleading to suggest otherwise."