Commerce trumps creativity at STV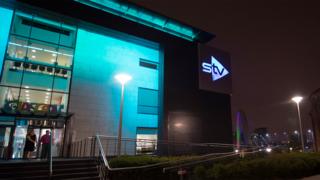 For 10 years under Rob Woodward's leadership, STV navigated the stormy waters of recession, the slow pick-up, upheaval in advertising and audiences shifting from conventional media.
It's been innovative, launching the Scotland Tonight programme at 22:30 on weeknights.
It took the experiment in local TV, ensuring that no-one else encroached on its advertising turf by taking franchises for Glasgow, Edinburgh, Dundee, Aberdeen and Ayr.
With disappointing figures for local, it re-shaped them into a digital Scottish channel, STV2.
It made local nightly news programmes for the main cities, and beat the BBC to a long-discussed project of broadcasting news integrating Scotland, the UK and the world.
To move away from dependence on on-air advertising, it developed online, a catch-up service, and worked hard to win commissions for other channels. However, nothing has come close to replacing the cash cow that had been the murderous Glasgow portrayed in Taggart.
The expansion of programming went some way beyond the conditions placed on its channel 3 franchise for central and northern Scotland.
Much of that is changing, or some of it will be done a lot more cheaply.
Commerce has trumped creativity.
The pressure on chief executive Simon Pitts comes from flat revenue and profits over recent years. Since last year, STV's biggest shareholder has been Crystal Amber Fund, described as "the most feared activist investor".
With a 17% stake and building, it is likely to want a sharp tightening of the financial results, which makes cost-cutting a priority.
The end result should be either a lift in the share price before it exits, or a sale to ITV, or both.
One resulting question from this: if STV cannot build an audience for its second, digital channel, finding audience engagement last year lasted an average of merely one minute, then what will BBC Scotland have to do differently to be more successful when it launches a Scottish digital channel next February?