Regulator hails success of oil and gas licensing round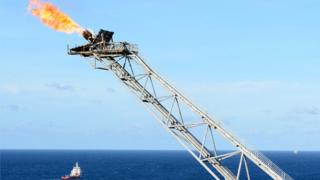 UK regulators have declared that oil and gas exploration is "very much alive" after awarding 123 offshore licences in the UK Continental Shelf.
The Oil and Gas Authority (OGA) said 61 companies had been offered licences over 229 blocks or part-blocks in the 30th Offshore Licensing Round.
Fourteen of the licences will move straight to field development planning.
New commitments also include eight exploration or appraisal wells and nine new 3D seismic surveys.
OGA hopes the round will unlock 320 million barrels of oil equivalent in about a dozen previously "stranded" undeveloped discoveries.
In a statement, the regulator said the awards could help transform exploration activity levels.
It added that it expected the round to "lead very quickly to activity, providing a welcome boost to exploration".
Awards were offered to a broad spectrum of companies, including a number of super-majors and new entrants to the North Sea.
OGA chief executive Andy Samuel said: "The UKCS is back. Big questions facing the basin have been answered in this round.
"Exploration is very much alive with lots of prospects generated and new wells to be drilled.
"The results show a great diversity of active players from super-majors to new entrants, and the hard work promoting undeveloped discoveries is starting to pay off."
'Vote of confidence'
Deirdre Michie, chief executive of industry body Oil and Gas UK, said the high number of applications demonstrated "another vote of confidence" in exploring for oil and gas on the UK Continental Shelf.
She added: "We now need these opportunities to be pursued with a sense of urgency to help unlock activity for our hard-pressed supply chain and ensure we start to mitigate the potential drop-off in production post-2020.
"I'm optimistic that this can happen given that much of the acreage lies within reach of existing infrastructure, our development costs have reduced, our commercial behaviours are improving and our basin continues to be one of the most fiscally-competitive in the world."
Kevin Swann, from energy consultants Wood Mackenzie, said the latest licensing round appeared to have been "a great success".
He said: "The UK is in desperate need of new projects to fill a development pipeline that is all but empty beyond the early 2020s, and 14 new pre-FID (final investment decision) projects could go a long way to rectifying that.
"The eight firm exploration wells among the awards, with big companies like Shell, BP, Equinor and ConocoPhillips among those set to drill, is a big vote of confidence in the UK.
"It shows the big players are not ready to leave UK waters yet.
"Newer kids on the block, like private equity-backed Chrysaor and small E&Ps (exploration and production companies) IOG and i3, have committed to new exploration wells too, showing that UK exploration interest is strong across the corporate landscape."