Getting into the exporting spirit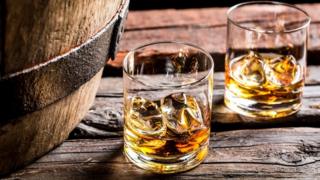 Scotch whisky distillers are usually very effective at getting the attention of governments, in Westminster, Brussels or Edinburgh.
Their trade body has just published some market analysis, running the numbers from HMRC, that are deployed to show how much worse off Britain's trade deficit would be if it weren't for whisky.
Spirits account for more than £5bn in exports from the UK, or 1.6% of the total. Whisky dominates the spirits sector, with a 79% share.
Alcoholic spirits are the 10th biggest category for UK goods exports, with vehicles at the top of the list, followed by turbines, pharma and crude oil.
Unlike many of the other categories, whisky exports don't require much in terms of imported inputs.
Austerity
It would come as no surprise to find that this publication is a device to get the attention of Brexit negotiators.
The European Union market is the biggest bloc, with £1.38bn in sales. The industry is keen to have EU trade unhindered and uninterrupted, while preserving the legal protections for whisky provenance and naming conventions.
North America accounts for £1.12bn and Asia is on £867m.
The analysis also brings us three other factors that are, understandably, less prominent in their presentation by the Scotch Whisky Association.
One is that the record 2017 export figures published in February showed admirable growth, but from a disappointing run of years. The export level is little higher than it was for three years at the start of this decade.
This reflects the inevitable ebb and flow of markets depending on economic factors. Demand from clubs and bars in Venezuela and Brazil had Scotch distillers samba-dancing all the way to the bank. Then their economies went south, and so did their ability to buy Scotch.
Up comes Africa to £189m of Scotch imports, now at more than half the consumption of South America, on £336m.
The North American market remains big and relatively stable, and at the premium end.
Closer to home, the Spanish market 10 years ago saw Glen Grant downed in vast quantities in the early hours of the morning in Madrid nightclubs, tanked with the financial crisis and European Union austerity pressure. It is now showing signs of rediscovering its taste for Scotch.
Blends vs malts
A second clear pattern is that whisky blends (usually cheaper) have not been growing nearly as fast as single malt (premium prices). In absolute terms, the growth in blends was twice that of single malts last year, but from a much higher base.
Over 10 years, blends are up 25% by value to £3bn, and single malts by 140%.
In 2017, there was less value in sales of blended whisky than in either 2011, 2012 or 2013. But since 2013, single malt sales have risen by half to £1.2bn.
Or looked at another way, single malt has reached a 10th of the total volume sold, and quarter of the value.
So as I've noted before, value goes up, but volume has been much slower to grow. Distillers like to grow value by going premium, because that's where the profit it. For those looking to benefits for the Scottish economy, it's volume that matters more.
Investment in single malts is strong. On 2 June, Edrington opens its bold new £140m Macallan distillery.
On a tour round it, I asked chief executive Ian Curle about blends. They're stalled, he conceded. So there's an opportunity for innovation.
In the USA, that has meant flavoured bourbon, with honey or apple.
And the third lesson from this analysis is the least likely to be emphasised by the Scotch Whisky Association.
Gin exports have been growing faster, though of course, from a lower base. Last year, they were up 12%, or £59m, to reach 9% of spirit exports, or £532m.
That figure has nearly doubled in a decade, according to the Wine and Spirits Trade Association, recently raising a glass of London Dry and tonic to the success of gin.
Gin exports to the rest of the EU reached £254m. Spain accounted for more than £100m of that - more than the next five combined: Germany, France, Italy, Greece and Belgium. Exports to North America topped £200m for the first time. Volumes were flat in the USA, but value was up 8%, pointing to a growing taste for premium priced botanicals.
The trade association can see more growth there. Including domestic consumption of "mother's ruin", they reckon it could hit £2bn by 2021. Already at £1.8bn, this is unlike whisky in that gin's growth is being driven by British drinkers.