Salmon beats: Out of the frying pan...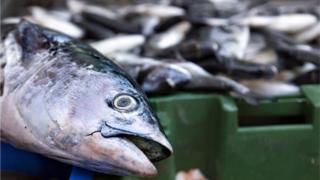 The Atlantic salmon has been battling its way upstream for thousands of years. However, it's facing a different and intensifying struggle in the cages where it is farmed.
There's still an appetite for the king of fish, and prices remain high. But production is down.
Last week, we learned the industry expects an 11% drop in output this year, as it struggles to get on top of sea lice and disease.
When either is found in a cage, salmon are harvested (or slaughtered, if you prefer) straight away, and much earlier than if they grew to their optimum marketable size.
Further evidence of difficulties out in the sea loch has been highlighted by the Food and Drink Federation. In an otherwise upbeat set of figures about exports from the UK sector (breakfast cereals are doing nicely - see below), salmon remains in the exporting top 10, but along with overseas beer sales, it declined in the first quarter of this year.
The value of exports over the three months was down £41m. With more than £200m in sales at the start of 2017, that's a drop of 22%. By volume, salmon exports were also down, by 16%.
It's worth noting, meanwhile, that whisky exports continue to top the list of UK food and drink exports, and the start of the year saw a rise in its value by £58.5m to £955m. That's a very healthy 6% growth.
The volume of exported whisky was up too, but at 2%, it continues to lag value, suggesting (as I pointed out earlier this week) that whisky drinkers are trading up to premium brands.
Fish welfare
The aquaculture industry has known about the growing problem of disease and sea lice for some time. They like to portray it as little more than the ticks and parasites that afflict farmed mammals. But this industry is less than 50 years old, so there's a lot less history to understanding what's going on in the sea loch cages, how much it affects its surroundings, and what can be done about it.
The Scottish government has been under pressure from campaigners concerned about sea loch water quality and the impact on wild salmon, so this week, fisheries secretary Fergus Ewing set out his response.
It is to get a series of groups together, including the industry, to set out their responses. One will examine the need for information and transparency about what the industry is up to. That would include its dumping of waste. Those campaigners have been very unimpressed by how much data they can extract from officialdom.
Other struts within this 'framework' include gill health, sea lice and cleanerfish. Those latter are the wrasse and lumpfish that like to eat sea lice - the natural response, you might think, but doing so at scale and to order has not worked, yet, as well as hoped.
There's a look also at the impact of climate change and increasingly acidified ocean water, and at the licensing regime. That might take a look at the constraints placed on the relatively small-scale farms in Scottish sea lochs, which make it more expensive, per kilo of fish, to farm here than in Norway, the dominant producer.
And the use of medicine, or chemicals, is a concern if more and more of it is needed to tackle disease and lice.
Norway has also been given a warning by its fisheries minister this week that the government is unhappy about fish welfare and the high attrition rate in the fjords. One of the solutions being considered is to find a way of farming salmon out at sea, where there's a stronger flow of water through the cages - but sometimes so strong that they can be ripped apart.
Humble haddie
While we're all at sea, some numbers for you. The provisional take on 2017 fish landings from Scotland's fleet have been published this week. Mackerel is the big money-spinner for the pelagic fleet, and 29% of the total value of catch by Scottish registered vessels. Pelagics were up 2% to more than 300,000 tonnes last year, but the value of them dropped 10% to £200m.
The white fish fleet - targeting haddock, monkfish and cod - saw volumes up 6% to 101,000 tonnes, and their value up 8% to £182m.
The humble haddie saw a tiny increase in volume landed, up to 28,000 tonnes, but at £42m, a whopping 13% boost to its value - as you may have spotted at the fishmonger.
Prawns dominate the shellfish catch, up 2% to 464,000 tonnes landed by Scottish registered vessels, but the total value was down slightly to £559m. Far too pricey to smother in curry sauce.
A footnote: Cereal numbers
Unable to resist a table of statistics, I have to share with you the Food and Drink Federation (FDF) insight into breakfast cereals.
They now account for £111m of exports in the first three months of this year, up 30% on the first three months of last year.
Where are they going? A fifth of that is to Ireland, up 28%. Second is the United Arab Emirates, up 36% to £8.2m, and Belgium, up 34%.
There's even a market for selling breakfast cereal half way round the world to Australia, with sales at £3.5m. That's up 82%. Strewth.
Why? Well, Jordan's is the best selling granola on Australian cereal shelves, and with other Jordan's brands, annual sales there last year reached £15m.
Lizi's Granola, I have learned, sells particularly well into the Middle East.
Helpfully repackaging your breakfast porridge as an oatcake, Nairn's has 90% of the branded market in the UK. A tenth of sales are in exports, and that's been rising at around 20% per year, driven by its gluten-free options.
Its top markets are the USA, Canada, Netherlands, New Zealand, UAE, South Africa, Cyprus.
Whisky tasters recommend an oatcake as the best way of clearing the palate. So maybe they benefit from being what economists call a complementary good.
That is, they have a negative cross elasticity of demand. No, don't ask. Just enjoy. Slainte.