Exhibition celebrates Japanese whisky pioneer Rita Cowan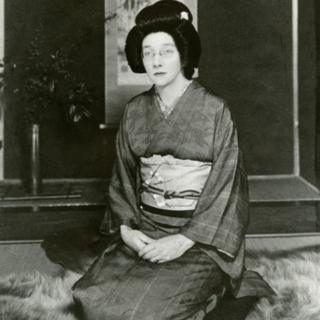 An exhibition celebrating the life of a Scot who became known as the mother of Japanese whisky has opened in East Dunbartonshire.
Artworks have been created to remember Kirkintilloch-born Rita Cowan, who helped to create one of Japan's most successful whisky distilleries.
She spent her life in the Far East after marrying Japanese man Masataka Taketsuru in 1920.
Rita had met him while he was studying chemistry at Glasgow University.
Masataka went on to start up his own distillery at Yoichi on the island of Hokkaido.
It marked the beginnings of what was to become the major Japanese drinks business Nikka.
The exhibition in Kirkintilloch Town Hall includes artworks by Women's Aid participants and a specially-commissioned series of silkscreen prints by artist Elspeth Lamb.
They were inspired in part by items relating to Rita held by East Dunbartonshire Leisure and Culture (EDLC) Trust. They include her kimono and obi sash.
Rita played a key role in helping Masataka produce his first whisky in 1940, providing both moral and financial support at difficult times.
Accounts suggest that Rita launched herself enthusiastically into her new life, speaking only Japanese and following local traditions.
However, Elspeth Lamb added: "I don't doubt that Rita must have, at times, experienced terrible feelings of alienation, isolation and loneliness, especially during the war years when westerners were also regarded with much suspicion."
Rita died at the age of 63 in 1961, but her name lives on in Yoichi, whose main street is named Rita Road.
EDLC Trust chairman Sandy Marshall said: "The exhibition is a reinterpretation of the life and times of a Kirkintilloch-born pioneer.
"Rita travelled across the world to be with the man she loved, helping to create the whisky industry in Japan.
"Her legacy lives on, with the company, now known as Nikka, flourishing."
The exhibition Re-imagining Rita and Masataka Taketsuru will run until 1 August and is open to the public.