Brexit: Scottish Engineering calls for 'rapid' progress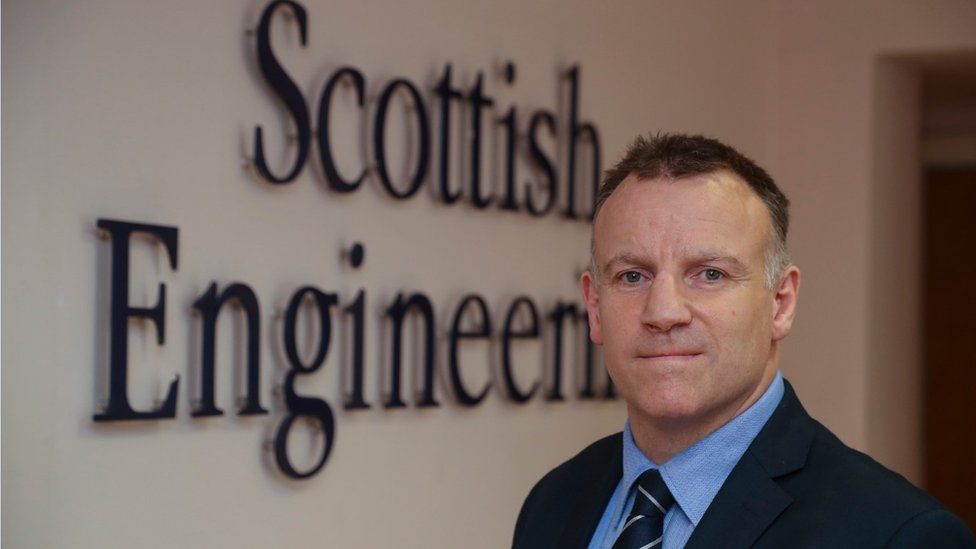 Scottish Engineering's new chief has called for "rapid" progress in Brexit talks for the sake of export firms.
The industry body's chief executive Paul Sheerin said the "fundamental detail" needed to give firms clarity "seems no closer".
His comments came in its latest quarterly review, which suggested exports improved for the second quarter in a row.
The UK government said it was making "real progress" on a Brexit deal.
Mr Sheering said: "It's a rare thing to attend any meeting where the 'B' word doesn't appear before five minutes in, and yet for all the discussion, the fundamental detail needed to give the clarity that export businesses need from Brexit seems no closer.
"And to add insult to injury, the cost to be paid for this folly would appear only to climb.
"Shambles isn't quite strong enough to describe this, as the connotation for me of that word could at least include well intentioned, and I struggle to see good intentions in Brexit.
"For the sake of our export businesses, an outbreak of honest and rapid progress is needed, and it is needed now."
Mr Sheering said the Scottish - and UK economy - was "flatlining", adding: "No matter what self-inflicted wounds we bring upon ourselves, the world economy appears to currently be on an upward trend, and while that impact is diluted more than we would like, that effect is still there."
The UK government said it was committed to securing a deal with the EU that works "for the whole of the UK, including the Scottish engineering sector".
It said it would forge "new and ambitious" trade links around the world as Britain leaves the EU.
A spokeswoman said: "The government has set a clear plan for Brexit and has made real progress delivering on this.
"We have set out two viable future customs arrangements with the EU - a new customs partnership without the need for any customs checks, and a highly streamlined arrangement in which EU goods would be subject to customs checks but in a way that minimises disruption through technology.
"We'll soon publish a White Paper with detailed explanations of our ambition for a future relationship with the EU - building on the positions set out by the Prime Minister."
Meanwhile, Scottish Engineering's latest quarterly review indicated that in most sectors of engineering, UK and export order levels had remained positive, with output volume improving and staffing levels picking up again after falling back slightly in the first quarter.
Optimism was also positive for the sixth consecutive quarter, while plans for both capital and training investment also increased over the previous quarter.
The review suggested it may signify that the industry "recognises that it must prepare for the inevitable improvement in the general economy".
Mr Sheerin added: "I am also heartened by the fact that we are seeing some positive signs from the oil and gas industry, with a cautious optimism apparent.
"We see companies traditionally serving that industry are successfully applying twin strategies of diversification and ongoing focus on a continuous improvement path."
Related Internet Links
The BBC is not responsible for the content of external sites.