Edinburgh House of Fraser closure to hit 127 jobs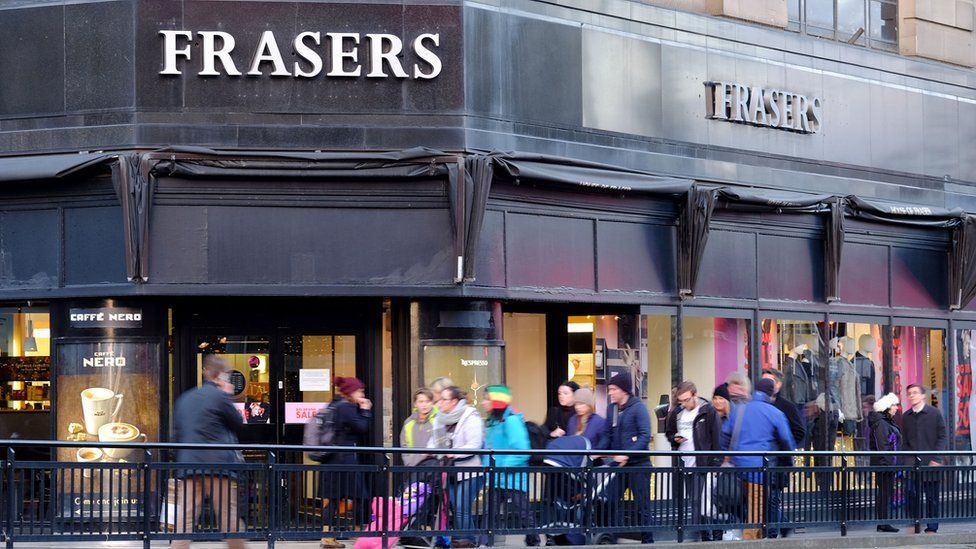 The troubled department store chain House of Fraser is to close its Edinburgh store, affecting 127 jobs.
They said the store in Edinburgh's west end would be closed in early 2019.
The company said it also intends to relocate its Granite House office in Glasgow to a new more cost-effective location.
The flagship store in Glasgow's Buchanan Street, as well as the Jenners stores in Edinburgh's Princes Street and Loch Lomond Shores, along with the Highland House of Fraser in Inverness, are all to remain open.
House of Fraser said it had already informed members of staff impacted by the closure of the store.
The retailer, which has a history stretching back almost 170 years, is among the country's best-known fashion brands.
It was started by Hugh Fraser and James Arthur in Glasgow as a single drapery shop in 1849 before eventually becoming House of Fraser in 1941.
One of Edinburgh's most iconic stores
The department store which sits at the corner of 146 Princes Street and 3 Hope Street in Edinburgh became a House of Fraser store in 1953 after the building was acquired from the Binns Group.
At the time it comprised of 50 departments over seven floors and spanned more than 69,000 sq ft of prime retail space on one of the country's most recognisable thoroughfares.
The location, known as Binns Corner, became a popular meeting point for people in Edinburgh in the 1950s.
As a result, in 1960 the building had its now well-known protruding clock added to the facade.
It was not until 1981 that House of Fraser fitted the store with 12 elevators and a top-floor restaurant. The store was also rebranded as Frasers in the same year.
However, by December 2017, the almost £800,000-a-year rental costs for the space, combined with decreasing footfall on the high street, saw the store put up for sale by House of Fraser for offers over £13.7m.
The company said the closures were necessary to ensure its survival. It now requires the approval of 75% of its creditors for the plan to move ahead.
Chief executive Alex Williamson said: "Today's announcement is one of the most important in this company's 169-year history.
"We, as a management team, have a responsibility to take necessary steps to ensure House of Fraser's survival, which is why we are making these proposals.
"We are fully committed to supporting those personally affected by the proposals."
Creditors are due to vote on the insolvency plan on 22 June.
Shoppers in Edinburgh said they would be sad to see it go.
Carol Larkin told BBC Scotland: "I still call it Binns, because in the 60s when we had a date we would meet the boys here at Binns before we went to the dancing.
"I never ever used it to shop because it was too expensive for me but it was a good meeting place."
Likewise, 67-year-old John McKenzie has fond memories of the store. "Since I was a small child I've known it's been there, it's an icon.
"If you met a girl here that was the most famous thing. When you got on the bus it would pass the store and if she wasn't there you would just keep on driving."