Record foreign investment in Scotland, research shows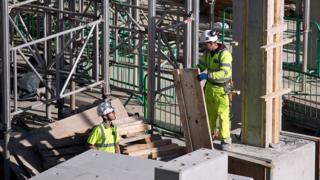 Foreign investment projects in Scotland have risen by 7% in the past year, according to business consultancy EY.
It found that Scotland retained its position as the second most attractive part of the UK for foreign direct investment (FDI), after London.
The research found evidence that the UK as a whole was losing ground to France with foreign investors.
The report covers 2017, which is the third consecutive year in which Scottish FDI has set a new high.
The EY Business identified 116 projects, up from 108 in 2016.
There was also a marked increase in research and development projects.
The increase of 70% confirms Scotland as the best-performing part of the UK in this area, with Scotland's share representing 24% of the UK total.
No guarantee
EY senior partner in Scotland, Mark Harvey, said: "Scotland has demonstrated an outstanding ability to attract and drive sustained growth of FDI.
"However, the performance of the UK as a whole within Europe is a signal that competition for FDI projects is intensifying and our previous levels of attractiveness are not guaranteed to continue."
He added: "Economic growth (in Scotland) is positive, but sluggish, and access to labour is a recurring challenge that makes it more difficult to expand operations.
"Scotland must work increasingly hard, with private and public sectors in partnership, to ensure the pipeline of talent, skills and experience is strong enough to drive business and economic growth in the future."
The research identified potential challenges to the UK in maintaining its leading position in Europe for attracting inward investment.
Paris overtook London for the first time when investors were asked name the most attractive city to locate projects.
University cities
Outside London, the research indicated that a reputation for academic research was important in attracting new projects.
Edinburgh edged ahead of Glasgow to become the third most attractive city in the UK.
For the first time, Livingston was listed in the top 20.
"Scotland and the English regions of the north west, the east and south east all had a strong FDI performance in 2017," said EY chief economist Mark Gregory, "driven in part by an increase in the number of digital projects locating there.
"Across the UK there is also a correlation between the growth of FDI in university cities, including Edinburgh, with a reputation for digital and R&D.
"In an increasingly digital world, the UK will need to accelerate and maximise its transformation into a digital economy or risk losing out on growth opportunities."