Crystal Amber increases stake in STV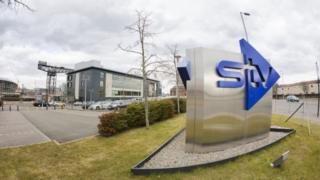 An activist investor has increased its stake in the Scottish broadcaster STV.
The company has revealed that Crystal Amber now owns 18% of its shares.
STV's share price has risen by a third since the company announced details of a strategic review. A total of 59 jobs are being cut and its second channel STV2 will be closed shortly.
Journalists at the station voted to take part in strike action if there were any compulsory redundancies. But the threat of action is now on hold.
It is hoped compulsory redundancies can be avoided.
MSPs have condemned the cuts which the company's chief executive described as "horrible but necessary".
Crystal Amber - which is described as an activist investor - has been gradually increasing its stake in the company and is now its biggest shareholder. It often invests in small and mid-cap companies which it believes could perform better for shareholders.
STV's share price has risen by a third in the month since the cuts and changes were announced.
The company has dismissed speculation that the cuts are a preparation for a sale to ITV plc which owns the rest of the Channel 3 network.