Jobs saved as Havelock Europa is sold by administrators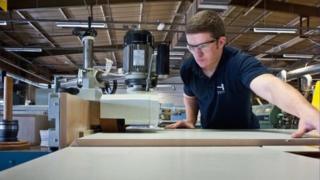 More than 300 jobs have been secured at Fife-based Havelock Europa after the business was bought out of administration.
The firm was sold through a pre-pack administration process to Havelock International, a new firm established by turnaround specialist Rcapital.
The sale came immediately after the appointment of PwC as administrators.
A total of 320 jobs were threatened after Kirkcaldy-based Havelock suffered a drop in orders.
The firm, which makes furniture and fittings for shops and public buildings, blamed continuing pressures on the high street.
Last week Havelock had trading in its shares suspended over concerns about its financial position.
It is understood that all employees have now been transferred to the new company.
Havelock Europa's customers have included Primark, Holland and Barrett, and House of Fraser.
Analysis: Douglas Fraser, Scotland business editor
Havelock Europa can trace its origins back nearly 150 years in Kirkcaldy, and in the specialist joinery business of shopfitting.
In recent years, it's been struggling. Banks and shop chains have been shrinking rather than expanding.
And with a recent public warning that it was in financial difficulties, its supplier credit terms became much more demanding.
So it was put in administration on Tuesday, knowing that it would immediately be bought over by Rcapital, a private equity fund that invests in turning around distressed companies.
The management team stays in place. They now have the time and capital to win new customers in different and growing sectors such as furnishing new hotels and student accommodation. And they drop out of the stock market, which will save money on reporting compliance and avoid a lot of unwelcome publicity if or when things go wrong.
No redundancies are planned, but there's no guarantee they won't happen. It will take time to turn the company around, with new orders and new sectors.
The big question for the workforce is how long Rcapital is willing to commit. Turnaround specialists always have an exit in view, and they exist to make a profit. They are rarely patient. Working them is rarely a pleasure.
But Havelock's management sound confident about the future because they believe the core business remains strong.
Mark Addley, restructuring partner for PwC in Scotland, said: "We are delighted to have secured a future for the business and employees of Havelock.
"2017 was a very difficult trading year for the business and a combination of the associated losses and tightening credit in recent weeks rapidly led to a liquidity crunch.
"It has proved very difficult to secure a sale against such a backdrop so to have managed to complete a transaction and preserve the employment of over 300 staff in an area where there are very few substantial employers is particularly pleasing."
'Very difficult period'
Havelock chief executive Shaun Ormrod said: "It has been a very difficult period for employees, customers and our supply chain.
"However, the PwC team have worked tirelessly to secure this sale, which provides an opportunity for Rcapital to support the management team to implement its turnaround plan.
"With the ongoing support of our workforce, customers and suppliers I am looking forward to Havelock becoming a profitable, secure business with long-term growth prospects."
Rcapital said Havelock's management team would work in partnership with Rcapital to "restructure and invest in the business", adding that a key focus would include ensuring that "all customer projects are completed in full".
Rcapital director Josie Richardson added: "The underlying Havelock business is strong and provides refits for some of the UK's best-known high street brands.
"We fully support the management and operational teams and will work with them to ensure the best possible customer service and sustainable growth."
Unions gave a cautious welcome to the news.
'Feeling of relief'
GMB Scotland organiser Alan Ritchie said: "Relief for our members is the overriding feeling because the immediate future of the business was dependent on new investment - but we are well aware that there will be challenges ahead.
"We will sit down with the new owners as soon as possible to establish their plans for the future of the plant and the staff.
"Our priority will obviously be the defence of our members' interests, which means sustaining jobs, pay and conditions as best we can.
He added: "The last few days have been incredibly tense for our members and their families but today's announcement brings some respite for them and for the Fife economy, which has not had its troubles to seek."
In a separate boost for Fife, agricultural specialist Cefetra Ltd has announced that it has signed a long-term agreement with Forth Ports to develop a new agri-hub at the Port of Rosyth.
The development will create a new purpose-built facility at the port that will be able to handle a range of agricultural products for the Scottish and northern English markets.