Scottish finance jobs growth 'outstrips London'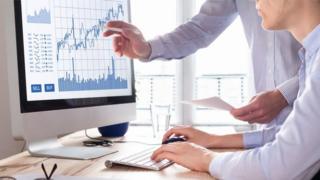 Scotland has outpaced London in terms of jobs growth in financial services in the past year, according to a report.
Industry-led body TheCityUK said the number of jobs in the sector north of the border grew by 6.6%, to 161,000.
London saw a rise of 5% in the same period.
The report found that financial and related professional services now accounted for 8.9% of the Scottish economy - the largest area contribution outside London.
It said Scotland had "particular strengths" in banking, life assurance and pensions, with a "renowned centre of excellence" in investment management and data science, as well as an emerging FinTech community.
It also found that after London, Glasgow remained the biggest insurance centre while Edinburgh had the largest centre for banking and was also a "major international location" for fund management.
Financial clusters
TheCityUK chief executive Miles Celic said: "One in every 14 British jobs are in financial and related professional services.
"These 'City jobs' aren't just confined to London, they're in financial clusters all across the UK, in cities such as Bristol, Cardiff, Edinburgh and Manchester."
First Minister Nicola Sturgeon said: "This report reinforces Scotland's position as the UK's leading financial services hub outside London.
"Scotland offers a combination of a well-established financial services sector and ongoing innovation, with many global companies already based here."
Meanwhile, a separate survey found a sharp rise last month in the number of people who found permanent jobs in Scotland.
The Royal Bank of Scotland Report on Jobs said permanent placements rose at their fastest pace in 44 months, outpacing the UK as a whole.
There was also a marked increase in billings for contract staff, according to the survey of recruitment agencies.
While demand for staff grew at an accelerated pace, the number of available candidates continued to fall.
The report said that, as a result, pay pressures "remained elevated", with both starting salaries and temp staff wages increasing further in June.