BiFab 'effectively closed' claims GMB union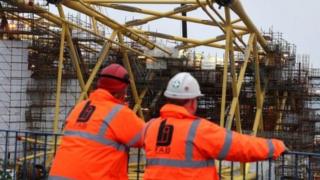 The GMB union has described what it called the effective closure of the BiFab yards in Fife and Lewis as a "dark day" for the Scottish economy.
It comes after further redundancies were confirmed, leaving seven staff being offered part-time positions to oversee maintenance and security.
New Canadian owners, DF Barnes, said they were working tirelessly to secure new engineering contracts for BiFab.
Twelve senior managers will be retained the union has said.
Alan Ritchie, GMB Scotland organiser, commented: "We were promised a bright future by the new owners but the cold, hard truth is that these yards are now closed until new orders can be secured.
"There is also anger and resentment that some of the people responsible for the demise of BiFab have had their futures secured, while the workers who made the sacrifices to complete the Beatrice order have been steadily shown the door.
"This is a dark day for Fife and Lewis, and for the Scottish economy. Whether there is any light in the weeks and months to come remains to be seen."
'Working tirelessly'
BiFab builds large-scale equipment for the offshore oil and gas industry, as well as platforms for offshore wind turbines and tidal generators.
Jason Fudge of DF Barnes said: "DF Barnes is working tirelessly to secure new contracts for BiFab.
"That is what is needed for the employees. That is our focus."
The Scottish government said there would be "difficult times" until the business secures new work.
A spokeswoman said: "We appreciate that this continues to be a challenging time for BiFab employees and former employees.
"As ministers have made clear, there will continue be difficult times for BiFab until new contracts are secured.
"We would encourage BiFab and Unions to continue to work together constructively during this period."
The company had had a core workforce of 400 and a further 1,000 contractors.
It was thought that the bulk of those jobs would be saved when DF Barnes took over in April.
In November last year, BiFab suffered cash flow problems linked to a contract for the Beatrice offshore wind farm in the Moray Firth.