Sports and sun boost Scottish sales figures in June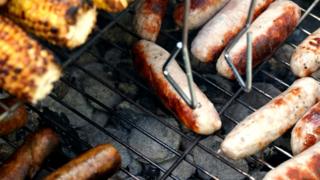 The recent heatwave and the World Cup has led to a sales boost across Scotland, according to new figures.
Total retail sales for June increased by 2.7% compared to the same month last year - with the growth attributed to people buying drinks and TVs.
According to the Scottish Retail Sales Monitor, sales of food products grew by 4.8% compared to June 2017.
This is the highest monthly growth since January 2014, an increase of 3.2% when adjusted for inflation.
The year-on-year percentage growth in Scotland for the month is higher than the overall UK figure of 2.3% according to the Scottish Retail Consortium (SRC) and KPMG, who jointly produced the figures.
Non-food product sales also saw an increase of 1% with items like outdoor furniture, sun-cream and skincare products all selling well.
'Unusual opportunity'
Ewan MacDonald-Russell, SRC head of policy and external affairs, said: "Scots, perhaps unused to one of the hottest Junes in a century, sought out drinks, fans, barbecues and paddling pools to cool off and enjoy the sunshine.
"Food sales continued their strong performance in 2018. In particular this month consumers were keen on picnic and barbecue food, reflecting the unusual opportunity to consistently eat outside.
"There were also strong drinks sales due both to the weather, but also as a result of the series of sporting events on television, not least the World Cup."
However, there are warnings for the retail industry that it still faces challenges as a lot of fashion items were significantly reduced to encourage sales.
Paul Martin, KPMG UK head of retail, added: "Despite the uptick, the woes of the high street continued in June, with sales not necessarily guaranteeing profit.
"June's warmer weather may have provided some welcome relief, but we know it's not likely to last."