Heathrow CEO: Third runway will be 'good for Scotland'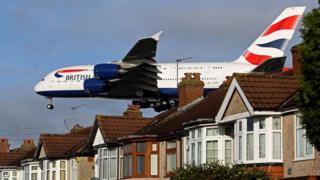 Heathrow Airport's boss has claimed its planned expansion will bring large-scale investment to Scotland.
Chief executive John Holland-Kaye said the Scottish economy will benefit from construction work worth hundreds of millions of pounds.
Last month, Westminster controversially backed plans for the third runway at the hub.
This morning, Heathrow announced its busiest ever first six months, but pre-tax profits have fallen.
Passenger numbers were up 2.5% compared with last year, and revenue has risen to £1.4bn, but pre-tax profits dropped to £289m from £311m a year before
The estimated cost of the third runway at the London hub is £14bn, and Mr Holland-Kaye told BBC Radio Scotland's Good Morning Scotland programme that the expansion would be a "great opportunity" for Scotland.
"More flights to more cities in Scotland, more competition, and more choice that will help bring down prices. We've seen that already with Flybe operating to Aberdeen and Edinburgh," he said.
"We'd love to see more flights to places like Inverness and perhaps Dundee. That would really help the economies in those regions to thrive."
Important hub
The chief executive was asked about the possibility of expanding regional airports, instead of Heathrow.
"Regional airports are always the best airport for anyone living around them, but for long-haul connectivity - from, say, secondary cities in China - we need to have the long-haul flights that only a hub like Heathrow can provide.
"Think about Aberdeen, which is part of the global oil and gas sector, and yet it doesn't have a single long-haul flight. What it does have is 11 flights a day to Heathrow. That shuttle means that companies like the Wood Group can get anywhere in the world they need to get to within 24 hours.
"We want to see other cities like Inverness and Dundee enjoy that connectivity, and that's what Heathrow expansion can provide."
The UK government plans to expand Heathrow were backed in the Commons by 415 votes to 119 in June, and the airport says it is now reviewing ideas from UK businesses and entrepreneurs to help deliver the project more innovatively, sustainably, and affordably.
There are also plans to visit 65 UK sites that are bidding to help build the project through large-scale offsite manufacturing
Mr Holland-Kaye said: "We still have three years of detailed planning to go through. We're creating a lot of jobs in Scotland, a lot of the design work we're doing is based in Glasgow, and we are looking for the location for a construction site, a logistics hub, in Scotland.
"We'll be pulling together as many suppliers from Scotland as we can to ensure that hundreds of millions of pounds of the investment in the airport down near London is invested in Scotland."
Appeal underway
The Mayor of London, Sadiq Khan, is taking part in a legal challenge to oppose a third runway at Heathrow.
Mr Khan called the decision to expand the hub disappointing and said it was the wrong approach to airport expansion. He said key arguments against the expansion such as air and noise quality would be central to their case.